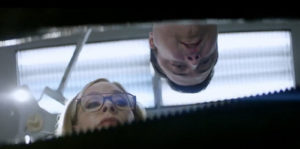 How does Joe Lynch's trademark style fit into an H.P. Lovecraft story? Well, Dennis Paoli's script for Suitable Flesh is full of the dark humor, sex appeal, action, and macabre antics that are the director's staples. So, is this horror thriller as a good fit of material and filmmaker as it seems on paper?
Elizabeth (Heather Graham) is doing her best to balance her career as a psychiatrist with her home life as a happily married woman. Then waltzes in Asa (Judah Lewis), a good-looking young man who appears to be suffering from schizophrenic episodes. Asa claims a person, specifically his father Ephraim (Bruce Davison), is taking control of his body at certain intervals. The ancient incantation used swaps the minds of the caster and the target. After three takeovers, the change becomes permanent. The good doctor does not believe these claims but is fascinated by how extreme the changes in personality and memory are.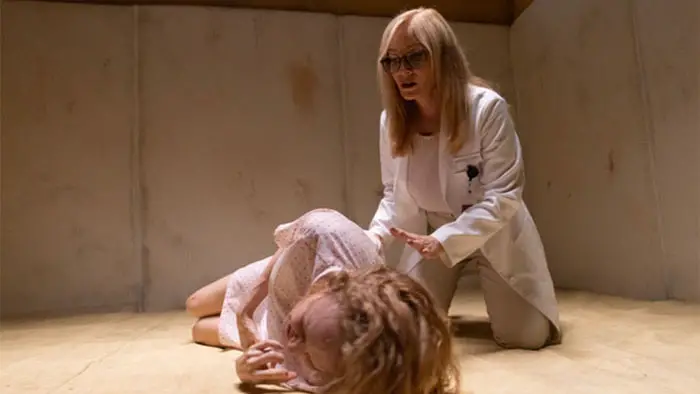 "…Elizabeth experiences the change herself as she and Asa switch."
After a night of giving in to her carnal desires, Elizabeth experiences the change herself as she and Asa switch. Even her best friend, fellow doctor Daniella (Barbara Crampton), does not believe what is being described and places the potentially violent woman in the mental ward at Miskatonic University. How can Elizabeth let everyone around her know that this is actually happening? Is Asa worried about himself, or is he just using Elizabeth to find another host to jump into?
Eagle-eyed readers will have noticed the setting as Miskatonic U and the town around it. That's right; Lynch placed Suitable Flesh in the same universe as its clear inspiration, Re-Animator. In fact, the one and only Stuart Gordon was working on this, under the title The Thing On The Doorstep, before he passed. Considering Gordon's Lovecraftian works influenced the filmmaker (Mayhem anyone?), it seems fitting that he gets to bring it to life. It should be noted that Crampton and Brian Yuzna are producers. Happily, Lynch does not let his inspiration down. During a crazed sex scene between Elizabeth and her husband, Edward (Jonathan Schaech), the camera rotates 360° while the editing is frenzied. The mad nature of this scene fits nicely into the chaotic, slightly kinky, somewhat spooky tone.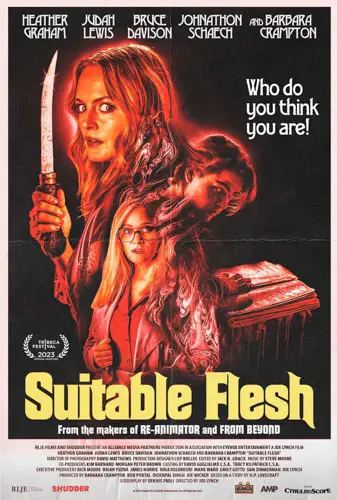 "…a feature Gordon would have been most proud of."