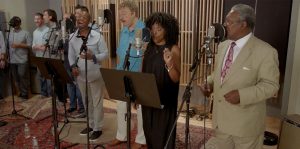 The indelible image at the heart of Brent Wilson's documentary, Streetlight Harmonies, is ironically one that we never really get to see. Yet, thanks to the fond memories of the film's dozens of interview subjects, you can picture it so easily. In essence, a group of bright-eyed teenage boys and girls gathered on a street corner in some big American city like New York or Baltimore, harmonizing vibrant, lovestruck songs about their puppy-dog crushes and naive romantic yearnings. Their voices sweetly mixing and playing off of one another as crowds of young people begin to form on the sidewalk, the music drifting upwards toward the open windows of their neighbors' tenement apartments.
That long-lost but warmly imagined scene is both the core and the origin of the "doo-wop" era of music that Streetlight Harmonies chronicles. Starting from its humble beginnings as a pastime for 1950s-era inner-city teens, to its meteoric rise on the pop-music charts, to the lingering influence it's had on contemporary vocal groups the documentary covers a lot of ground.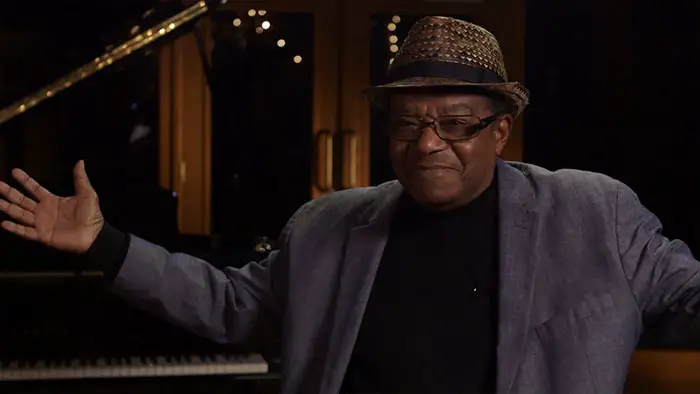 "…the origin of the 'doo-wop' era of music…"
Wilson's film has the same overall feel as a lot of slick, commercial music documentaries with its enthusiastic talking head interviews, vintage performance clips, and a sparkling soundtrack of licensed songs. But there's something that makes this one feel just a little bit more important, a little more special, than this nonfiction genre's usual output. That might have to do with the fact that doo-wop has been so largely overshadowed as a pop-cultural touchstone by hipper subjects like classic rock, blues, and jazz. The opening title calls it "one of the most disregarded and misunderstood eras in American music history." Thus, Streetlight Harmonies couldn't merely pay tribute to the scores of performers that crystallized doo-wop's signature sound. The film also had to make a case for why it's worth revisiting in the first place.
To that end, Wilson assembles an impressive roster of doo-wop luminaries to sing its praises. That's a particularly apt expression in this case because, as doo-wop star "Little Anthony" (Anthony Gourdine, who sang with The Imperials) tells it, the genre's beginnings can be found in the tight harmonies and heartfelt energy of gospel music. It was church singing that informed the sound of a wildly successful, vocals-focused R&B act called The Orioles in the early 1950s. That group's nearly instant stardom inspired countless others, many even going so far as to adopt avian monikers of their own. The musical style that The Orioles and their ilk pioneered focused on vocals, rather than expensive instrumentation. This made it easy for amateur groups of inner-city kids to emulate, and the street-corner doo-wop scene took shape from there.
Streetlight Harmonies is particularly perceptive in capturing the transitions that characterized doo-wop's history. One of those is the trajectory of acts like The Teenagers, fronted by barely-out-of-adolescence Frankie Lymon, who almost overnight went from being neighborhood heartthrobs to nationally recognized (and televised) touring and recording artists. Another is the way that the doo-wop sound, which originated in the black communities of New York and elsewhere, began to catch on in adjacent Italian-American enclaves, giving rise to groups like The Elegants and Frankie Valli & The Four Seasons. The film also exuberantly showcases and gives voices to the girl groups who came to be just as dominant in the doo-wop culture as their male counterparts. Lois Powell of The Chantels states, "We said, 'Well if they can do that, we can do that!'."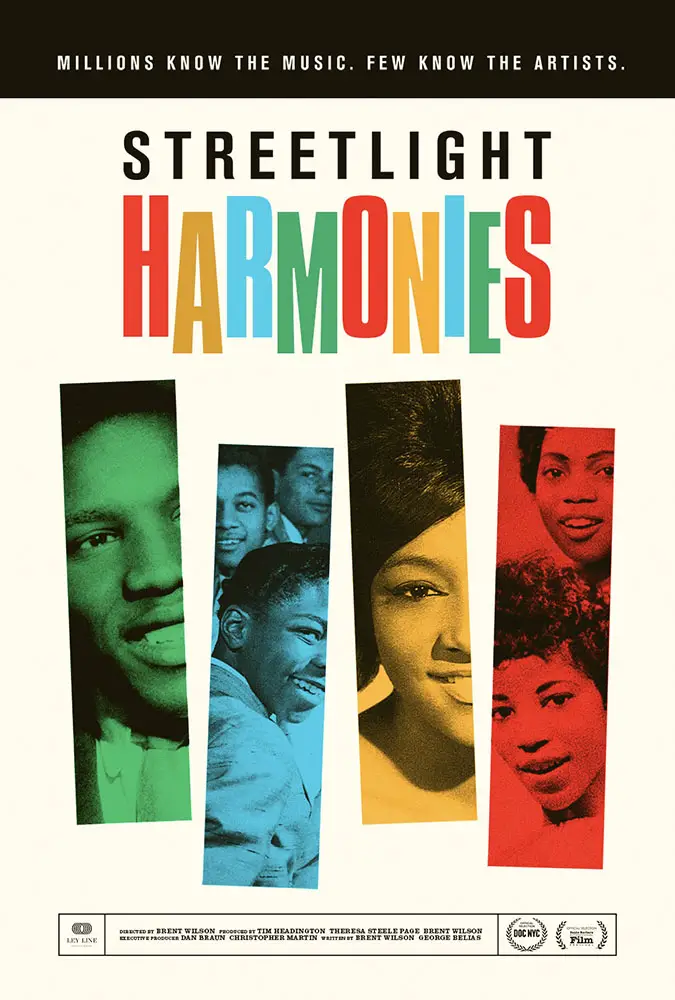 "…Like many of the artists themselves, though, the style was resilient..."