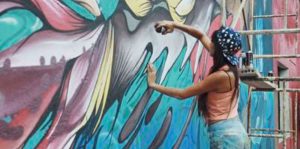 MINT 2021 REVIEW! Female street artists are a unique type of person. They must be stealthy and have a sense of place and spontaneity while having accessible exits because they are outside sometimes in the dark and in hazardous locations. Their urban canvases are places that identify with a city's pulse and inhabitants — subway cars, bridges, tunnels, concrete walls, and hard-to-reach spots and sides of buildings. There's a danger and excitement in how and why these women choose this medium to express feelings, desires, and transparency in the world they live and occupy.
Capturing hardcore creativity and the history of women graffiti artists, Street Heroines spotlight those who go unnoticed. While primarily an art form dominated by men, namely Banksy, director Alexandra Henry carefully constructs a narrative mostly filled with interviews of Latina artists in New York City, Mexico City, São Paulo, and a sojourn to Ecuador. Henry also includes photographer Martha Cooper, whose book Subway Art, first published in 1984, is considered one of the most important works for graffiti art history. Cooper is interviewed on travels with Henry on location. Her appearance is notable, but Cooper is also often cited as an inspiration to many women interviewed throughout.
"…graffiti artists have come a long way since the Lascaux Caves in France's Vézère Valley."
Known as rebel or street art, graffiti artists have come a long way since the Lascaux Caves in France's Vézère Valley. The public art in Street Heroines created by Lady Pink, Claw Money, Nina Pandolfo, Swoon, Lady Aiko, and Shiro, among others, is remarkable and empowering. The style and abilities of these women are uncanny, and to watch them complete their work is mesmerizing, as you can see how painstaking efforts are taken to create and implement their vision. These women are tough urban pioneers for their creative passions, which speak for and to many. Henry and her crew capture the art form, the spray cans, the ladders, and scaffolding, along with the urban decay and the celebrations, including a graffiti women's festival in Ecuador — it is a highlight.
They talk about clean walls, being assaulted, and shut down by the police in their unyielding efforts to do their work and get their messages out. From tags and guerrilla painting to city-supported/funded projects, the director covers the gamut of how these female artists operate and create because most of the time, what they are doing is illegal. This art is an outlet for expressionism and not an actual crime, which emulates the core of real activism. These ninja ladies often must take photos of their work because it is often painted out or destroyed.
Henry also presents some fascinating archival footage to show a timeline and historical print of how graffiti has changed and grown since its first appearance in the 1970s, especially in New York City. With women's rights continuing to be a struggle, through the lens of female street artists, one can visualize the empowerment this artform brings to those creating and viewing it. Street Heroines is an example of how fearless artists create opportunities to close the gender gap and celebrate cultural identity.
Street Heroines screened at the 2021 Montana International Film Festival.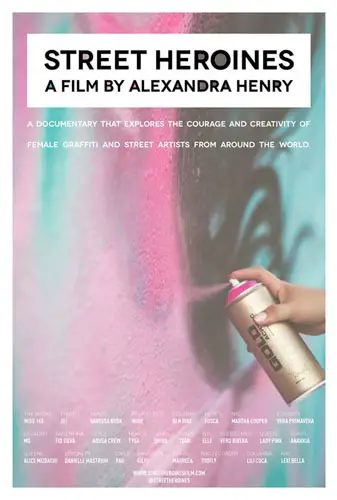 "…an example of how fearless artists create opportunities..."