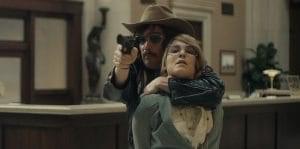 An early title card in Stockholm tells us the film is "Based on an Absurd but True Story," which writer-director Robert Budreau successfully leans into throughout the movie. Set in 1973 Stockholm, Budreau's film tells the true story of a hostage situation in a supremely entertaining way, while bringing light to a story, not all movie-goers may know but became the origin of the term "Stockholm Syndrome."
Ethan Hawke stars as Lars Nystrom, who walks into the largest bank in Sweden, wearing a ridiculous wig and cowboy hat. He seems at ease, as he takes out his gun at fires it into the ceiling. We quickly learn Lars isn't your average bank robber. He lets the majority of the patrons go, keeping a few of the bank employees with him, including Bianca (Noomi Rapace) and Klara (Bea Santos). Once the police are involved, Lars begins to make his demands. He wants infamous bank robber Gunnar Sorensson (Mark Strong) freed, so they can flee to France together.
"… the origin of the term 'Stockholm Syndrome'…"
Lars wants to be taken seriously as a threatening presence. "You can call me The Outlaw," he tells the police. The cops, who often act questionably throughout the situation, have to remind Lars that he, as a bank robber, should be requesting money. First, Lars asks for a Mustang, like Steve McQueen's in Bullitt, then $1 million in unmarked American dollars, once reminded.
Stockholm spends the bulk of the film within the confines of the bank, creating an anxiety within that works effectively from the perspective of an audience member. While Stockholm presents itself as a familiar bank robbery story, its madcap energy keeps things fresh and entertaining from start-to-finish.
"…its madcap energy keeps things fresh and entertaining…"
Hawke is a blast as Lars, playing it big and broad but registering as a man on a mission, even when he doesn't seem to have anything resembling a plan. Hawke has always been an underrated actor, creating a simple, everyday realism in projects like The Before Trilogy or Boyhood and playing loud and fun as he does here. He and Rapace have a great captor-captee relationship, playing off each other with a mix of irrational behavior from Lars and a more rational way of thinking from Bianca.
Stockholm is a strong case that you can do a lot with the tried-and-true trappings of a genre. Budreau has proved that with his propulsive and engaging film.
Stockholm (2018) Written and directed by Robert Budreau. Starring Ethan Hawke, Mark Strong, Noomi Rapace and Bea Santos
Grade: B+