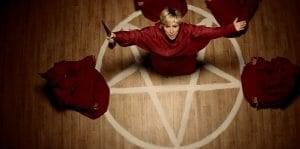 Things get complicated during a simple satanic ritual. REALLY complicated.
It all started with such a simple plan. Draw a pentagram on the floor, offer a sacrifice to Satan, and then…well, I don't know. But somewhere between those two steps, something goes horribly wrong in the new horror comedy short STAY.
"…a simple plan. Draw a pentagram on the floor, offer a sacrifice to Satan…"
The snark is strong in writer-director David Mikalson's acerbic demon comedy. Playing out in nearly one single location, we see what happens when things become less than professional during a normal sacrificial transaction. Anna Seregina plays the central Satanist with a Tilda Swinton meets Aubrey Plaza vibe. Her deadpan delivery and the developments along the way are laugh out loud funny. Meanwhile Davey Johnson's reluctant and easily distracted creature from the nether world, who's more interested in the nether regions (rimshot) is equally funny. Think Ron Jeremy, but prettier. The supporting cast all of whom are great, are mainly there to facilitate the joke.
I mean some interactions and acquaintances just don't work out. Some guys are certifiably satanic. Still, we would do well to heed this cautionary tale. I mean, where would it lead? Where would things go if you took them to the ultimate bad choice with the ultimate bad pairing?
Stay is one very long very funny joke that takes things to an absurd extreme and I had a good laugh between the fair amount of gore.
Stay (2018) Written and directed by David Mikalson. Starring Anna Seregina. Stay screened as part of the Midnight Series at the 2018 Dances With Films.
7 out of 10