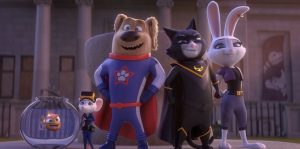 The battle between cats and dogs is nothing compared to animals against humans. This idea is not so fiercely explored in Ben Smith's animated tale, StarDog and TurboCat. Buddy (Nick Frost) is the titular StarDog. Chosen from dozens of applicants, Buddy proved to be loyal and capable of completing a secret, yet critical, space mission for his master David.
In the film's opening moments, Buddy is launched successfully into space. A malfunction on the ship mysteriously transforms Buddy's molecular structure giving him powers (more on this later). It also puts him into a 50-year hibernation, only to land on earth where the relationship between man and animal has become adversarial. Animals, like dogs and cats, are despised by humans, and harsh penalties are inflicted on stray animals wandering the streets of suburban Greenville.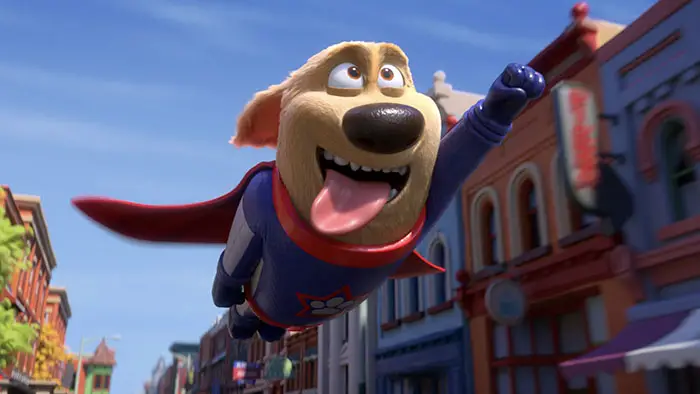 "A malfunction on the ship mysteriously transforms Buddy's molecular structure giving him powers."
Soon, a confused Buddy is being chased by the police, only to be saved by the infamous TurboCat (Luke Evans), whose real name is Felix. Buddy is taken to Felix's lair at the local museum and meets his robot servant Sinclair (Bill Nighy). They soon learn of an underground organization, known as GUARD, dedicated to saving animals from injustice. The group is run by animals, including Cassidy (Gemma Arterton), who is a rabbit, the goldfish Bullion (Ben Bailey Smith), and the gadgeteering mouse Tinker (Charli D'Amelio).
This new, dangerous world confuses Buddy, who soon discovers he has super-canine powers, including super strength. It's the perfect contrast to the cunning, resourcefulness of TurboCat's Batman-like suit and gadgets. Each character's goal is clearly laid out. The mission of GUARD is to save animals in danger and restore the faith in the world's domesticated animals. For Buddy, though, it's to find his master David, who promised he'd never leave him and always be his master. Felix is looking to right a past wrong.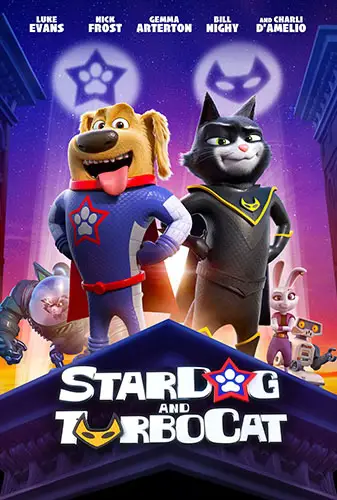 "…a marketable story for children featuring cute animals, spaceships, and superheroes."