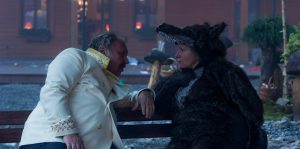 Agnieszka Holland is one of our most treasured directors, a true stalwart and auteur. Perhaps best known for her uncompromising depictions of the Holocaust such as the harrowing, Academy Award-nominated In Darkness, or the classic Europa Europa, Holland possesses a versatility that's often overlooked. She's helmed a family fantasy film, several period dramas, a slew of TV shows, and the list goes on. At 72 years young, Holland shows no signs of slowing. She now dips her toes into environmental thriller territory with the sorrowful, unforgettable Spoor.
Set in the remote Klodzko Valley in Poland, the movie follows Janina (Agnieszka Mandat), an aging teacher. Her tranquil life with her two dogs is periodically interrupted by her ongoing battle with the local poachers. Deer, skunks, wolves, and foxes are caught in the rusty jaws of deadly traps; they're caged, shot, and skinned. Janina cannot comprehend how this massacre can go on unpunished. The authorities don't take her impassioned rhetoric seriously.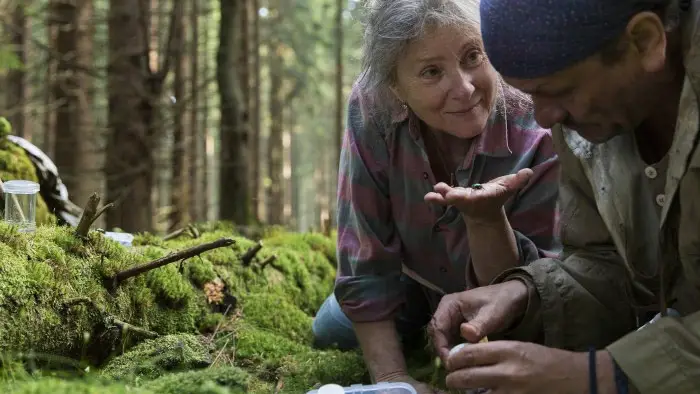 "One day, her dogs go missing. Janina assembles a search party…"
One day, her dogs go missing. Janina assembles a search party; when that yields no results, she turns to the local priest. "Animals don't have souls," he tells her emotionlessly, "they're not immortal and can't be saved." He suggests she prays for herself, as opposed to her lifelong canine companions. In the meantime, bodies of local poachers start turning up. When questioned by the police, Janina states that the dead poacher was dangerous and should have been "rendered harmless long ago." She believes the murders are the animals' wrath.
In the meantime, Spoor veers off on a few tangents: there are the shenanigans with Janina's little posse, a young woman nicknamed Good News (Patricia Volny) and the seizure-prone Dyzio (Jakub Gierszal); there's the rivalry between two men vying for her affections; then there are the frequent interludes featuring nature at its most beautiful and savage. The ending caught me off guard a little. If it were meant to be a twist, then I certainly saw it coming – if not, why would it be presented as such? Luckily, it does not derail the narrative and is followed by a final note of such grace that only a filmmaker of Holland's stature could have composed it.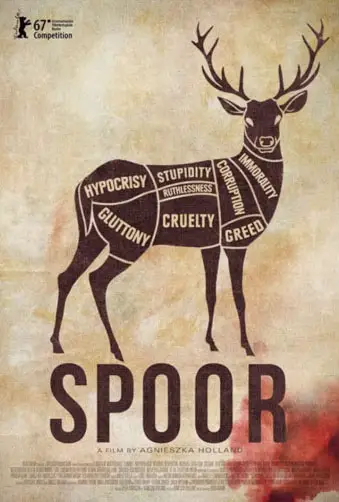 "…a bitterly sardonic indictment of us all as utter barbarians."