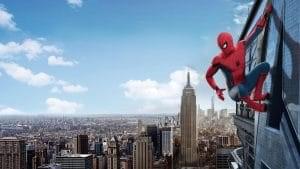 As with actual arachnids that can get too cozy when sharing the living room, Stan Lee and Steve Ditko's Spider-Man – twice now – has seen his life expectancy cut short in dramatic fashion. Tobey Maguire reached his best stride with Spider-Man 2, but then the bloated closer to his trilogy pulled a "face, meet concrete" act. Andrew Garfield was diligent in weaving his own rendition, and then the corporate's premature vision of a cinematic universe for Amazing Spider-Man irreparably shredded his efforts. Expectedly, much weight is on Tom Holland for Homecoming, but rejoicing is in order as his solo effort replicates the electricity of Spidey's debut and will easily land at MCU's upper echelons.
"Peter's best pal, and Aunt May serve up the best laughs…"
Sing it, people: "Look out, here comes the finest Spider-Man!" Don't convince that Adrian Toomes (a threatening Michael Keaton) dude to join the chorus.
After the fall of the Loki-led Chitauri invasion in The Avengers, powerful alien technology is littered all over New York and needs to be salvaged, which is what Toomes and his crew do to make a living. Tony Stark (Robert Downey Jr., surprisingly not as intrusive), quite deep in the habit of unwittingly altering lives, then decides to make their jobs his – forever. Angered at yet again another act where the power-holders squish the lower class, Toomes becomes the Vulture, eager to do damage to a post-Civil War Iron Man. "The world is changing; it's time we change, too," he declares in a succinct opening sequence that puts the villain first. Not exactly the most surprising touch (Civil War already did this), but this is the best way to establish Peter Parker's journey in Homecoming: Where does someone who wishes to live life as lighthearted as can be – with or sans suit – fit in the can-get-callous, adult-reigning world?
Being the first telling of a new series, there is yet a way to find out if this Spidey will go dark à la a quarter of Spider-Man 3 (what's apparent, though, is the insta-grim of the first Amazing Spider-Man isn't here). In either phase, prior or after Peter's obligatory moment where identity crisis is at its peak, Holland is a delight to watch. Now that playing Peter is no longer someone nearing 30, the character stays absorbing even when unmasked; the geekiness and youthfulness show up without the specter of doubt. Relatability to Peter and Spidey is at its highest in Homecoming – one would feel whips of panic too, when Peter gets jumpy around whoever gets close to the truth, would frustrate when a grown-up points out his positional disadvantage and would feel vulnerable when Toomes' and his company are about to deliver the blows.
"Maybe the Fantastic Four should seek Peter for guidance…"
But wait, there shan't be dourness, seeing as director Jon Watts and the crew he co-wrote with forbid it. The humor is remarkably consistent in quality throughout, generating a neighborly character that makes Homecoming a high-school film featuring superheroes, equally novel as the time when The Winter Soldier fashioned a political thriller out of its comic-book garb. Almost predictably, MCU's treatment of its villains here is light again – "almost" since this is due to priorities rather than sparse development – and it is compensated ten-fold with radiating allies. Ned (an amicable Jacob Batalon), Peter's best pal, and Aunt May (a hilarious Marisa Tomei) serve up the best laughs as well as dramatic moments, chiefly the former who frequently asks Peter how is the low-key famous life after discovering his rather-low degree of separation to Spider-Man.
So when Ned and his friends from the school's Academic Decathlon team are trapped in a falling elevator inside the Washington Monument, the danger is palpable – at times (deliciously) overbearing thanks to Salvatore Totino's thrilling lensing and Watts' knack of utilizing every facet of the setting. Not that the original MJ isn't worth saving (emphasis on "original" because she is in Homecoming through a "holy cow" announcement), but Ned adds weight to the stakes since he is a non-Avenger, bound-in-this-outing character who gets to see the full Peter. He proves his worth as a sidekick, too, guiding Spider-Man to operate an Audi later in the film. The Peter/Spidey–Ned dynamic echoes and is as worth investing as that of Travis and Harrison in the much-starker in tone Cop Car, Watts' "thesis" prior to graduating to tentpole filmmaking.
And just like Cop Car, amid the key moments of Homecoming is an insightful coming-of-age throughline. While linearity surrounds the maturity of the duo who hijack the cruiser, two choices are presented to Peter: Legitimize himself as an Avenger and be a shadow among friends, or live out the high-schooler life and miss out the bigger catches. To really internalize the scenario, the script wisely lets Uncle Ben has his rest, making Peter's awareness of the responsibilities accompanying his powers something only he can unearth. When the suit's A.I., Karen (Jennifer Connelly, wife of Paul Bettany who plays Vision), is awakened and introduces Peter to a gazillion abilities that Stark previously nerfed, heartily comical situations ensue plus the gentle reminder about this is a boy who will readily exceed his grasp to find footing in the experienced world. Spilling tears of joy when Peter tries out the "Enhanced Interrogation Mode" on gangster Aaron Davis (Donald Glover), but the hardship is felt. That, and also more reason to root for the man.
"Surprises in Homecoming also extend to its more genre-hallmarks aspects, namely those Easter eggs…"
Surprises in Homecoming also extend to its more genre-hallmarks aspects, namely those Easter eggs. While Disney makes it clear who is the new rights holder with overt references of the Death Star, Captain America (Steve Rogers) is present to educate Peter's classmates (at one point breaking the fourth wall to deliver an Easter egg about Easter eggs). On the less pleasant side of surprises, Michael Giacchino's music and the spark between Peter and his crush, Liz (Laura Harrier) are too timid to be noticeable, which is painful to say since the score opens the film with a triumphant spin on the classic Spider-Man theme and Harrier exudes a genuine tenderness. But since these flaws don't draw attention after the film is over, they do little to erode the well-maintained new-Spidey DNA from the footage.
There was the initial the worry that – with its six screenwriters – Homecoming will be the work of too many cooks; not the kind of problem to acquire on top of the seemingly near-weekly attempts to bring Spider-Man to multiplexes. However, it is time to rest easy, for the film shows its hero and his followers that the path home is also the way forward.
Maybe the Fantastic Four should seek Peter for guidance…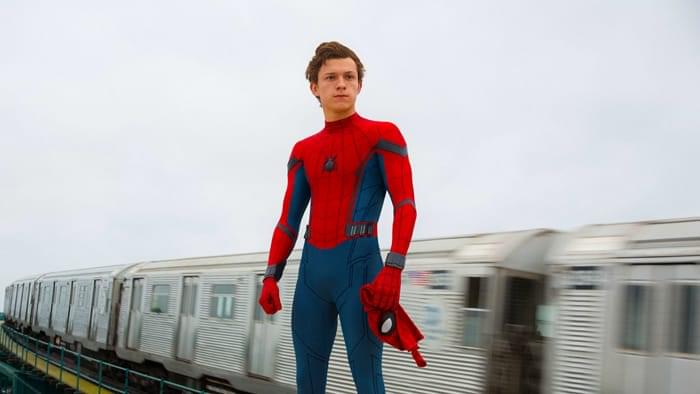 Spider-Man Homecoming (2017) Directed and Written by: Jon Watts. Co-writers: Christopher Ford, Jonathan Goldstein, John Francis Daley, Chris McKenna, Erik Sommers. Based on the Marvel comic book by: Stan Lee, Steve Ditko. Starring: Tom Holland, Michael Keaton, Robert Downey Jr., Marisa Tomei, Jon Favreau, Zendaya, Jacob Batalon, Laura Harrier, Chris Evans, Hannibal Buress.
9 out of 10.