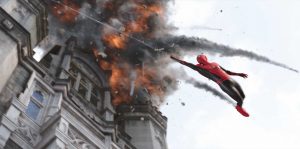 So, we're now two films in on the third iteration of Spider-Man. I love the Tom-Holland Spider-Man so much. The big difference with the third go-round is the fact that no one's ever mentioned poor dead Uncle Ben. His death weighed so heavily in the first two that this ghostly cloud that hung over the entire franchise.
Tom Holland's Spider-Man is more faithful to the comics in the sense that Peter Parker is a high school student juggling a normal life at school with friends, at home with his Aunt May, and protecting the very streets of his hometown, New York City. Already Parker understands his role as the protector of New York and steadfastly protects his privacy. Casting aside the tragic death of Uncle Ben allows this Spider-Man to tell a happier tale and avoid the dark, brooding, angsty teen hormonal drama that should be reserved for a young Bruce Wayne.
There are two parts to Spider-Man: Far From Home. The first half of the film centers on the high school life of Peter Parker (Tom Holland). The film opens with a high school video tribute to Tony Stark leading into a student news broadcast explaining what happened to everyone during the last five years. Assuming you saw Avengers: End Game, you know that half of the universe disappeared for five years, what they call "The Blip." Suddenly half the school rematerializes including Peter Parker, Ned (Jacob Batalon), MJ (Zendaya), and Flash Thompson (Tony Revolori). In an instant, Peter and gang are now headed on a European field trip with their teachers Mr. Harrington (Martin Starr) and Mr. Dell (J.B. Smoove). While on the trip, Peter wants to get closer to M.J. and confess his love for her while they're in Paris on the Eiffel Tower.
"Peter wants to get closer to M.J. and confess his love for her while they're in Paris on the Eiffel Tower."
While the teen stuff is fun and sure to appeal to younger audiences, it is a little slow and feels like an adolescent drama on the Freeform channel, as opposed to a full-fledged Marvel motion picture. But the story pushes through thanks to performances from Tom Holland, Zendaya, and Jacob Batalon. Jon Favreau and Marisa Tomei add a few much-needed bursts of comedic energy and cuteness too. My best advice is to be patient, and sitting through this teen road trip antics will soon pay-off.