The variety of crushed grape juice Somm 3 is concerned with is not the fabulously expensive wines that fetch tens of thousands of dollars at auction. It focuses on the stuff that retails for between, say $90 and $180. Not ferociously expensive, but certainly far from Boone's Farm territory.
A "Somm," short for sommelier or wine steward, is a curator of these fermented beverages, and usually chooses the wine selection for restaurants and other establishments where discerning customers gather. Using their highly educated palates to single out and recommend wines, they often pair them with specific dishes for optimal effect.
Somm 3, like the other two installments before it, gives us a glimpse behind the scenes where wine hotshots get to say which is the best, and which is merely adequate.
It's an educational experience, seeing top guns at work, but outsiders, such as myself, might find the conversation a bit silly. When wine experts assess and converse, it seems it's like a competition among authors to see who can construct the purplest of purple of prose. The language is often steeped in drama, full of hokum and utterly undecipherable to the novice.
We see one highly regarded variety of alcoholic grape juice, in all seriousness, likened to "polished leather." A pinot noir from the Burgundy region of France is vaunted as possessing a "haunting perfume." In other conversations, sommeliers bestow anthropomorphic qualities on the stuff. "It's not afraid of (having) a point of view," one exhorts. It possesses a "restrained vigor." Another offers her take on pinot noir in general, comparing it to an abusive relationship. "It's like a bad boyfriend, but you keep going back," she says.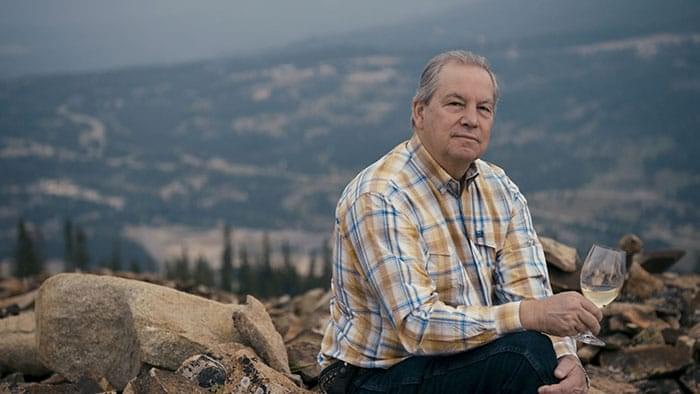 "When wine experts assess and converse…like a competition among authors to see who can construct the purplest of purple of prose."
Aside from the unintentionally amusing evaluations, the film offers some interesting backstory on the U.S. wine industry and how the industry began to boom in the 1970s. The all-important Paris Wine Tasting of 1976, known as the Judgment of Paris, was the event that helped establish a new order in the international wine market. In a blind tasting, American cabernet sauvignon and chardonnay bested French wines for the first time, and as one wonk comments, "All hell broke loose." That's to say that the French, who had reigned supreme and routinely scoffed at California wines were from then on forced to take the American rubes seriously.
"We were a threat," notes one advocate. These days, wine is raking in $220 billion annually in the United States alone.
The film mentions in passing that Robert M. Parker Jr. began publishing The Wine Advocate in 1978, a periodical that rates what's on the market. It became a pervasive voice, perhaps influencing the kinds of wines that would be produced and marketed, all of which leaves a bitter aftertaste in the mouths of some aficionados.
A surprising statistic is that 95 percent of all wine sold in the United States is consumed within eight hours after purchase. Thus offering a bit of insight into American behavior patterns and perhaps the nation's psyche, as well. Needless to say, there are relatively few bottles sitting in dank cellars around the country, a trend that tends to make a finely aging bottle of port a rare commodity among us Yanks.
Even in a land where wine bottles seldom sit unattended long enough to collect dust, blind tasting reigns supreme as the ultimate acid test. It forces the experts to drop any preconceived notions they may have about the history or past glory of a particular wine and judge it simply on the basis of how it tastes.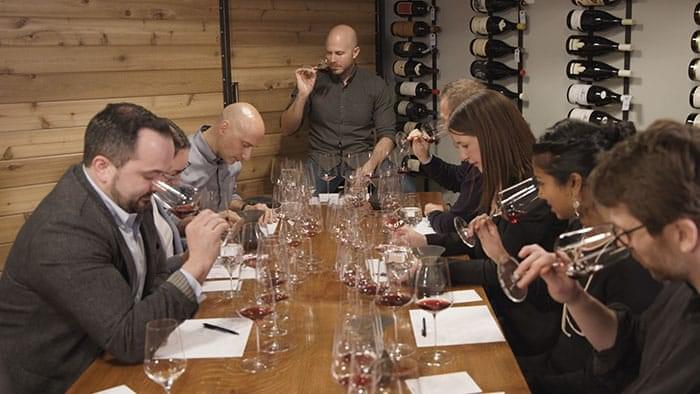 "…will likely whet your appetite for a glass of burgundy, and if nothing else…"
In the earlier part of the film, a group of sommeliers tastes their way through a flight of pinot noirs. They selected three as the best of the lot, which was: Bloom's Field Domaine de la Côte, of Santa Barbara, Calif., and Volnay Champans, of Burgundy, France, which tied for first place. In third place was Domaine Bachelet Les Corbeaux Premier Cru, of Gevrey-Chambertin, France.
Three giants in the world of wine, Jancis Robinson, Steven Spurrier, and Fred Dame, were then assembled to provide the final drama, if "drama" is the right word for it, as the film comes to a close. To the director's credit, the atmosphere is restrained. No cheezy music or lunging camera zooms are employed to milk the scene for artificial thrills a la reality television.
Without giving too much away, their choices for best of the three are rooted in each judge's personal taste as much as the quality of the wine itself, a remarkably candid conclusion in a field that places great importance in the knowingness of the expert. In the end, with the most educated palates in the business assessing and rating wine, a great deal comes down to personal taste. Which is really the way it ought to be.
In all, Somm 3 is an absorbing 90 minutes that will likely whet your appetite for a glass of burgundy, and if nothing else, you'll get a few tips on wines to check out.
Somm 3 (2018) Directed by Jason Wise. Starring Ian Cauble, Fred Dame, Paul Draper, Laura Fiorvanti, Jay Fletcher, Becky Wasserman Hone, Steve Matthiasson, Brian McClintic, Carole Meredith, Rajat Parr, Dlynn Proctor, Madeline Puckette, Jancis Robinson, Sabato Sagaria, Aldo Sohm, Steven Spurrier, Dustin Wilson.
9 out of 10 glasses of Romanee-Conti Grand Cru