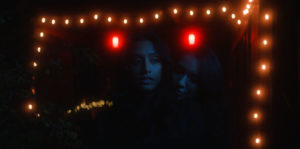 In Sean Cruser's short thriller, Skip to the End, Lexi (Shalini Bathina) is seen outside her girlfriend's boss' home, suffering from intense social anxiety. As a way to calm her down, she opens a half-filled box of bullets. Almost immediately, Rose (Cami Storm) comes out to escort Lexi inside to the party.
Lexi is then met with a comment about how well she fills her dress. She then meets the wife of the man who made that comment, Rose's boss, Hannah (Novi Brown), for a bit of chit-chat. Soon all attention is on Lexi, and it freaks her out. She soon rushes to the bathroom, and we discover what exactly calms her down in high-stress situations, and you'll never believe it. Or will you?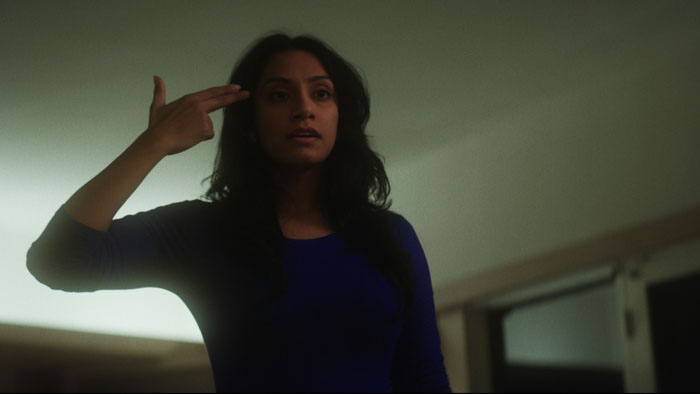 "…all attention is on Lexi, and it freaks her out."
I wish I could say more about Skip to the End, but for spoiler's sake, there's a lot to unpack which shall remain unpacked. The best way to talk about the film is the beautiful dark tone that Cruser maintains throughout. Yes, it's dark, but the filmmaker manages to keep us in the mind of Lexi. She is always off balance socially and cool and calm when she has a moment to reflect and "medicate."
Shalini Bathina gives a fantastic performance. Her feelings of anxiety and nervousness are highly relatable, ultimately building to a poignant ending. Skip to the End will leave you rocked when it's over.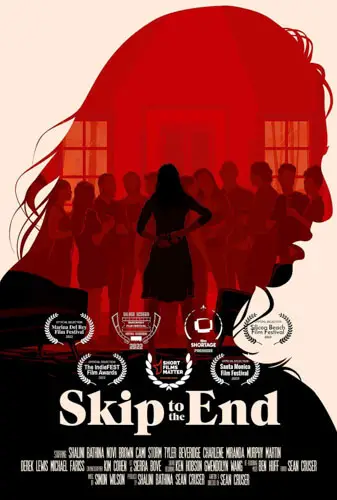 "…will leave you rocked..."