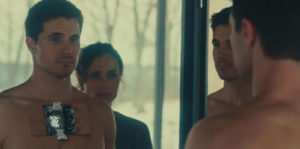 The director of Simulant is April Mullen. She's the underrated genius behind the stunning 88 and goofy-fun splatterfest Dead Before Dawn. That's one in the plus column, and the film hasn't even started yet. This sci-fi dramatic thriller stars talent behind beloved franchises such as Arrow, Shang Chi, and Fast And Furious. That's several other plus points right there. However, it is Ryan Christopher Churchill's first feature-length script. Does he deliver something worthy of the talent attached or not?
Evan (Robbie Amell) and Faye (Jordana Brewster) are a happily married couple, but a terrible car accident leaves her a widow. To cope, she activates the android duplicate, known as a simulant, that they were imprinting on should something happen. This new Evan does not know of his A.I. status and cannot figure out why Faye is slightly distant and awkward around him. To help further his human traits, Faye contacts the brilliant engineer Casey (Simu Liu), who removes all restrictions on the Simulant. This leads to a butterfly effect of changes, some with devastating consequences.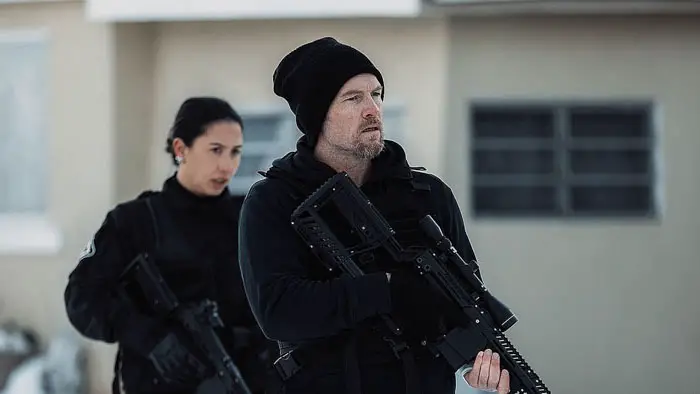 "…Evan does not know of his A.I. status and cannot figure out why Faye is slightly distant…"
Meanwhile, government agent Kessler (Sam Worthington) is hunting down rogue simulants. These androids have been off the grid for a long time, which isn't allowed. Of course, he gets wind of what happened to the Simulant Evan and vows to track him down. His investigation reveals an obsession and hatred of simulants. Can Evan evade Kessler and live his life? Will he be able to woe Faye once again?
Yes, Simulant has strong overtones of the one and only Blade Runner (sequel? What sequel? What a terrible idea.) in terms of how this on-screen world approaches androids. What precisely the simulants want for themselves and why is also inescapably cribbed from Scott's masterpiece. But, unlike so many other homages, knockoffs, mockbusters, and what have you, the setting and production design are wildly different. Designer Ingrid Jurek and Mullen go for a realistic approach, which pays off big time. There are no neon lights, and much of the first half happens in a little suburb. It's all very simple, with only a few flourishes to indict the futuristic setting. This gives the film a unique feel, making the more apparent beats of the narrative easier to swallow.
That isn't to imply Churchill brings nothing new to the table. He absolutely does, and it is shockingly and highly original. The problem is to say anything further would massively spoil the flick, and that's not fair to viewers nor the cast and crew. What can be said is that the revelation of what Evan is, while a little easy to surmise, thankfully happens 30 or so minutes in. This means the movie is about his reaction to the news, the fallout, and Casey coming on board. These elements don't bring to mind anything other sci-fi properties and, as such, are some of the most gripping.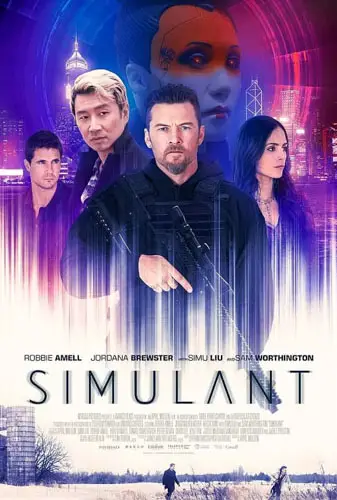 "…has strong overtones of the one and only Blade Runner."