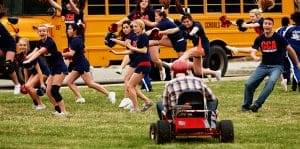 And now a brief diversion into the world of family-friendly films. A detour that takes us to Shifting Gears about a family struggling to survive and stay together while set in the world of dirt track auto racing.
Tom (R. Keith Harris) has a big chip on his shoulder. Everything bad in his life can be traced back to his father, Clem. His meager job as a supervisor for the popular Q-Mart chain. He has no chance of advancement because of his boss, Jenkins (C. Thomas Howell), who wants someone with a college degree. No degree thanks to his deadbeat father, "Lugnut" Williamson, who loved racing more than his own son.
The only thing good in Tom's life is his wife Carol (Brooke Langton), son Jeremy (Adam Hicks) and daughter Stephy (Tate Clemons). Not wanting to become like his father, Tom tells Jeremy he'll pay for the college of his choice. Jeremy, a chip off his grandfather's block, instead wants to be a mechanic and dirt track racer.
"Everything bad in his life can be traced back to his father…"
Just as things get tense, a letter arrives notifying Tom that his father passed away leaving him the family service station. Tom wants to sell it, but Jeremy convinces him that the family should run the station and Jeremy's dream of becoming a mechanic/racer can be realized.
Tom and family return to his hometown do discover: one, that his father was quite a legend; two, there's a loan on the service station; and three, Jenkins with his partner Conrad (John Ratzenberger) want to buy the station when it goes on auction unless Tom can pay off the loan.
I'm exhausted, and the set up isn't even over. Suffice it to say, Tom's dad really loved him, but was afraid to re-enter his life, the only way Tom can keep the station is enter and win a local race, Tom needs help training from the locals, ala Cars, and Tom is a risk of losing his son, who is a talented driver.
"…loaded with a cavalcade of strong veteran character actors…"
The best thing I can say about Shifting Gears is that's its an incredibly mediocre and unoriginal film. It's loaded with a cavalcade of strong veteran character actors like John Ratzenberger, C. Thomas Howell, M.C. Gainey and M. Emmet Walsh. With solid performances all around, Shifting Gears pushes itself barely passed the recommendation line.
Like many family-friendly films, it goes the safe route story-wise refusing to offend anyone or push the boundaries of storytelling. Shifting Gears has the very specific audience of middle America in mind with its good Christian, family values, and love of auto racing.
Shifting Gears (2018) Directed by Jason Winn. Written by R. Keith Harris. Starring R. Keith Harris, Brooke Langton, Adam Hicks, C. Thomas Howell, and John Ratzenberger.
3 out of 5 stars