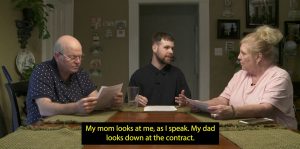 Jordan Lord's documentary feature, Shared Resources, is a touching story of his family as they rally together over a series of devastating events. As the saying goes, "write what you know." With Shared Resources, Lord explores his parents' tribulations through the lens of debt.
For most of his life, Jordan's father, Albert, worked as a bank debt collector. Unlike your typical collector, Albert felt pride in how he treated and tried to help the bank's customers with their delinquent payments. The life of Albert and his mother Deborah changed forever when they lost everything in 2005 because of Hurricane Katrina. Jordan's parents would struggle financially over the next decade and a half, culminating with Albert's firing from the bank and the final humiliation of filing for Chapter 13 bankruptcy.
In Shared Resources, Jordan brings his camera in to observe the daily lives of his parents in essay fashion. Before Katrina, the Lords lived a comfortable life in their home and raising their children. Since then, life has been a struggle only worsen by Albert's unexplained firing and his current bout with diabetes.
Debt is the running theme of Shared Resources. Lord ponders over this concept beyond just the financial and the emotional, historical, moral, and social debt we have as a family. Albert and Deborah's pride prevents this documentary from becoming a "poor me" story. Albert chose to file for Chapter 13 bankruptcy versus Chapter 7 because he felt an obligation to actually pay back his debt and honor the commitment he made when he borrowed the money in the first place. I admire Albert because he's a man of principles and values and lives accordingly…never taking the easy way out of a problem.
"…chose to file for Chapter 13 bankruptcy versus Chapter 7 because he felt an obligation to actually pay back his debt…"
Through these principles, Lord is able to unravel the sociological concept of debt within his family. There's a type of debt formed between parents and children, which comes to light over a discussion of Jordan's sizeable student debt and his parents' commitment to pay it off as their final financial obligation to Jordan as parents.
Shared Resources differs from your typical documentary because the camera gets up close and personal with Lord's parents. He captures his parents' home life primarily through fly-on-the-wall footage and talking head and conversational testimonials. The film opens with a medical emergency concerning Albert as he begins to fade in and out during a diabetic episode.
It would be a disservice not to talk about Jordan's mother, Deborah. She is that mother who loves and loves deep. She's not afraid to speak her mind, but even in the most challenging conversations, motherly love just oozes out. She's proud of her son, and the person became…even if it's as a filmmaker. Her emotional moment is her conversation about the future and possibility of Albert not managing their home and finances in the future.
One oddest bonding moment occurs when Jordan needs his parents to sign contracts regarding their participation and obligations with the documentary. Rather than simply signing the contract, Albert actually read it and has several tough questions about it. The questions are not purely legal but questions that define the loyalty and trust between parents and children.
Lastly, the style of the documentary is worth talking about. For the sake of accessibility, Lord's documentary is fully captioned. Color codes are used to denote off-camera narration and on-camera dialogue. Jordan and Deborah share the duties of providing audio descriptions—complete with jump-cut warnings. There is a strange charm that comes from their descriptions. Maybe it's the calm monotone narration of Lord that strangely enhances what we see on screen. Would I feel the same about what I see if it wasn't there?
Shared Resources is not your typical documentary with a definable narrative throughline, but more of a family portrait that looks at familial love and seeks to define this love and our obligations (or debt) as a family.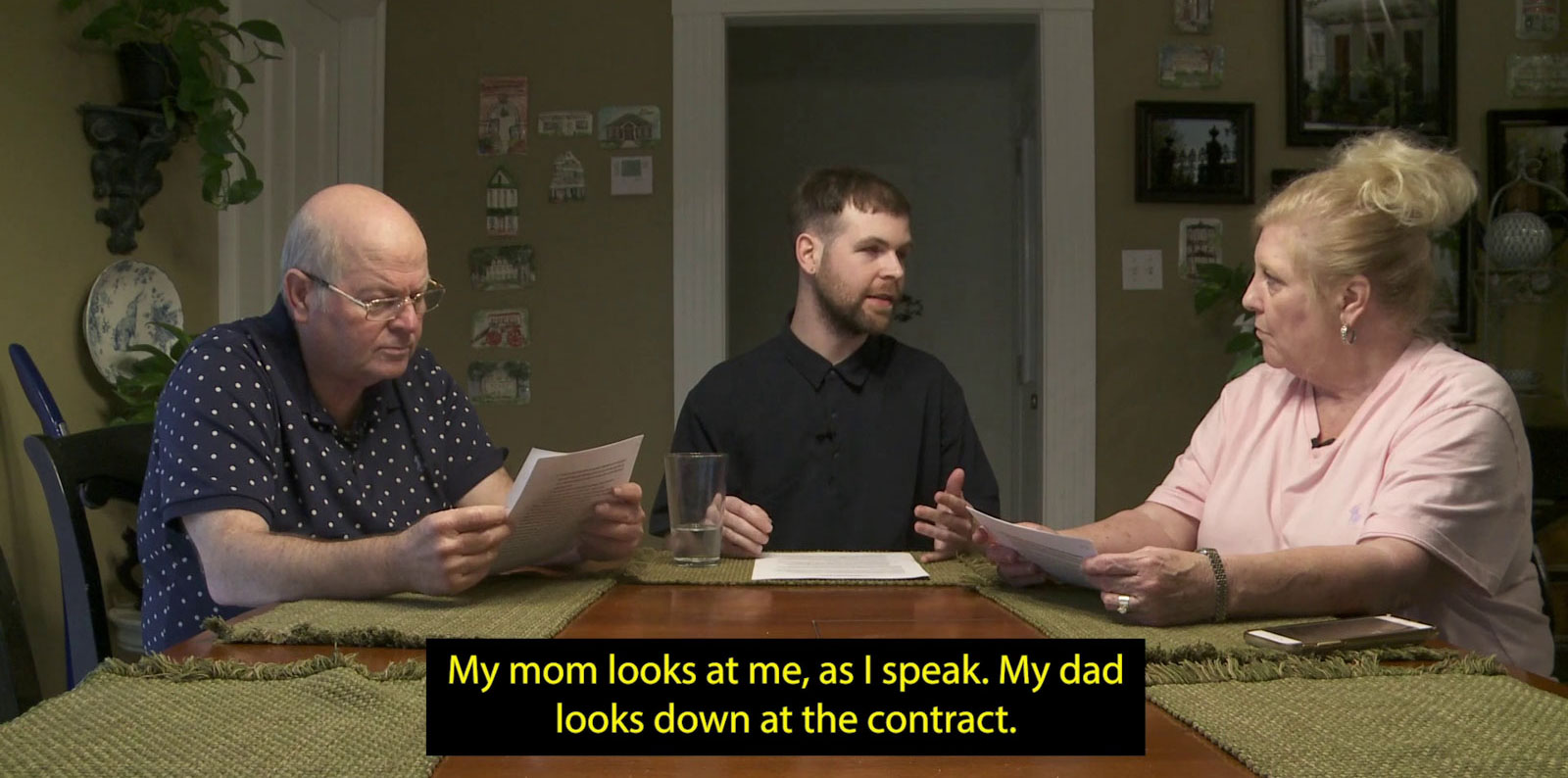 "…he's a man of principles and values and lives accordingly..."