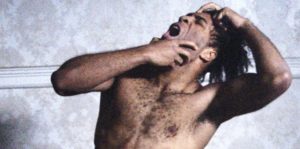 I recently reviewed the engaging short film Tears, from the Campfire Poetry Project, spotlighting a modern dance performance inspired by Walt Whitman's poem of the same name. The second short from The Campfire Poetry Project is based on Bjørnstjerne Bjørnson's poem, Secret Love, which is interpreted by dancer Kingsley Ibeneche. The short film is directed by Katie Sadler and cinematography by Carissa Henderson.
For those unfamiliar with the poem (which clearly I am since I am Googling it), it's about a man driven to madness in the home of his love. Her ghostly presence is felt within the walls of the house where she passed.
"…a man driven to madness in the home of his love."
At the center of Secret Love is Ibeneche's performance. He stands stoically in a 17th century Hendrick I. Lott House in Brooklyn. Slowly, disconcerting music begins to swell, and a haunting voice bellows out words and phrases from the original poem, like "gloomily" and "there was none." Meanwhile, Ibeneche's character is contorting in controlled staccato-like movements with the music. It's tense and increases in intensity throughout the five-minute short. By the end, he is overcome by madness.
I don't claim to be an expert in modern dance, nor contemporary art. This begs the question, so what do I know? What I do know is what I see and how I feel from Secret Love. Kingsley Ibeneche is an adept dancer. His movement invokes feelings and intensity in me by just watching him. With Sadler's direction, the dance, setting, props, music, and Henderson's cinematography all work together, creating a harmonious piece of insanity. I'm pretty sure this is what they set out to accomplish by melding dance with the written word.
"…It's tense and increases in intensity..."