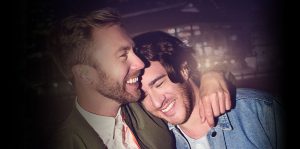 Starring James Fanizza, Alex House and Katya from RuPaul's Drag Race (Brian McCook). Alex and Sebastian meet one fateful evening and it's love at first sight. However, Alex has a boyfriend and Sebastian is only visiting Toronto for one week until he has to return home to Argentina. To complicate matters further, Alex's boyfriend is Sebastian's cousin. Sebastian chronicles their week-long romance as both men learn to accept each other's differences, overcome their pasts, and let love into their hearts. As the week ends and Sebastian's time in Toronto comes to a close, can the two of them take a chance on love or will they lose each other forever?
Sebastian (Alex House) and Alex (James Fanizza) ride in a taxi to the airport. Their secret love affair nearing its close. Yet, when the two share a final moment, curbside at departures and the melancholy romantic goodbye falls flat with trite dialogue and mid-range acting. Thus begins the meandering romance pic, Sebastian, giving us little compelling desire to see what led them to this moment.
"The two fall for each other and begin a forbidden, secret love affair…"
Flashback to the week before when the two met. Nebbish Alex whiles away his time, riding his bike around Toronto, sketching, going on job interviews, when his boyfriend Nelson (Guifre Bantjes-Rafols) asks to meet up with him. Nelson has a cousin visiting from Argentina but will be away for a week on business. Alex is charged with showing Nelson's cousin, the strapping Argentinian Sebastian, around Toronto. You can see where this is headed even though, for some reason Nelson cannot. Say byeeeeee to your boyfriend bitch. Not being much of a people person, reluctantly, Alex agrees to play tour guide.
At first, the walks around the city are chaste, with Sebastian and Alex meandering through parks, and city streets. The Linklater influence is strong here as the pic begins to feel like a gay Before Sunrise, the two characters chatting about nothing in particular, allowing the viewer to read between the lines. In order for that type of movie to really work you need two things. Great dialogue and an exotic backdrop that allows the audience to soak in the atmosphere when pondering the subtext. Sadly, we get dialogue that goes in fits and starts and a backdrop that could be anywhere in North America.
The two fall for each other and begin a forbidden, secret love affair. Alex begins avoiding his boyfriend's phone calls, and we get long stretches of the two love birds spending time together. We learn that Sebastian has recently come out back home in South America, yet this did not go well. His welcoming aunt, Leah (Leah Doz) invites him to move in with her and start a new life. It would be a great idea if Sebastian wasn't schtupping his cousin's boyfriend.
"…every scene that Zamolodchikova delivers pulls the film into the realm of watchability.."
Sebastian is a bland film that only springs to vibrant life when Alex takes Sebastian go to see his friend perform in drag show. Xenia (Katya Zamolodchikova) bursts onto the screen in a stage routine and then after the show interrogates Alex about his new beaux. In fact, every scene that Zamolodchikova delivers pulls the film into the realm of watchability.
The foreseeable conflicts occur, complications arise, and whether or not true love wins out is held for only the most persistent of viewers. My biggest problem with Sebastian was the almost complete lack of likable characters. Our lead Alex, played by the films writer-director (James Fanizza) is as unlikable a person as any. With no desire to truly commit to the guy he is dating, he instead decides to sleep with his boyfriend's cousin. Sebastian is a dopey knucklehead who is worthy of a second look on Grindr, yet lacking any personality or integrity. When you don't like the characters, you can't begin to connect with them and understand what leads them to the actions they take. Alas.
A good film defies genre. In this case, a good film should transcend the community it targets. Sebastian falls flat, not just as a film featuring gay romance, but as a romance in general.
Sebastian (2017) Directed by: James Fanizza. Written by: James Fanizza. Starring: James Fanizza, Alex House, Katya Zamolodchikova, Guifre Bantjes-Rafols, Leah Doz
Sebastian  is Don't Bother (*).
Norm's Rating System: Full Price (****), Matinee (***), VOD (**), Don't Bother (*)