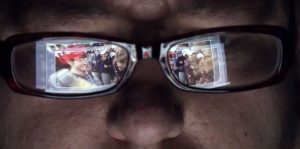 NEW TO VOD! It's a question worth asking. Just because the worst person in the world was elected President of the United States, does that mean we get to abandon our principles and values as human beings until he leaves office? Our political anger has fueled cancel-culture, and its unintended consequences are massive.
Steve Oldfield's documentary Rush To Judgment covers the journalistic fiasco associated with Covington Catholic High School student Nicholas Sandmann and the infamous video where allegedly, he "assaulted" Nathan Phillips, a Native-American veteran, on the steps of the Lincoln Memorial. NOTE: as of this review, Sandmann has settled two defamation lawsuits with CNN and The Washington Post for a reported $500 million total. At this rate, he's on track to receive $2 billion when it's all said and done.
We all remember the viral video of Sandmann wearing a MAGA hat, looking smug as he's face-to-face with Nathan Phillips beating his drum just inches away. The left and right went to immediate judgment against Sandmann. Undoubtedly, the kid has to be racist, and naturally, he has to be bullying a Native American because that's what all Trump supporters do! The main-stream media went on full attack, labeling Sandmann, his fellow students, and Covington Catholic High School as the worst example of Trump racism. Admittedly, it doesn't look very good.
Within days, Sandmann would appear on the Today Show only to be lectured by Savannah Guthrie, and the veteran Phillips would appear on every other new channel telling his story about how the boys went out of their way to confront him. In an unfortunate event, an internet troll would misidentify and effectively dox the wrong Covington student releasing his address and place pressure on the culinary school he wanted to attend to reject his application, and he wasn't even there.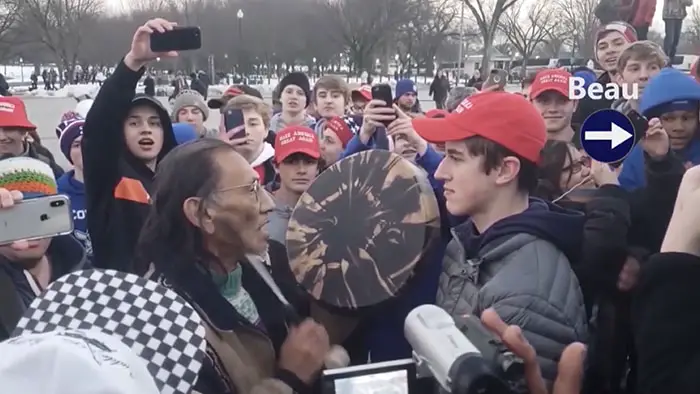 "…he 'assaulted' Nathan Phillips, a Native-American veteran, on the steps of the Lincoln Memorial."
As time passed and as the full footage of the Covington confrontation was released to the public, we soon realized that the narrative being presented on every single news channel and podcast had every point of the story wrong, except that Sandmann wore a MAGA hat. Phillips wasn't even a Vietnam veteran, as reported. In his defense, it was the media that said he was a Vietnam veteran, but Phillips never corrected them.
As an investigative film, Rush To Judgment does what documentaries should do, and that's present the facts. Admittedly, the movie's thesis was to clearly call out the media's "rush to judgment" and questions the state of journalistic integrity regarding the truth, whether it fits your desired narrative or not. The director lays out the entire story with copious amounts of news footage piecing together the whole account along with interviews with the key players, including Nicholas Sandmann and a few political pundits, mostly on the right, offering commentary.
In the end, the film not only effectively presents the details of the fateful event and tracks how the story spun out of control in the public eye. It also serves as an indictment of how divided we are as a nation. Highly charged political stories like this burn like wildfire — all from knee-jerk reactions and a media landscape chomping at the bit for salacious stories to tell, just for ratings, clicks, and views.
Whatever side of the aisle you are on, Rush to Judgment is a remarkable and important documentary and presents a case study about the broken state of journalism and the volatile state of the national debate (Newsflash: no one debates anymore). One of the tenets from my old college critical thinking classes urged me to "rigorously question ideas and assumptions rather than accepting them at face value."
If you're going to ruin a child's life, make sure you have the facts before you do. In the end, what's the cost of destroying a person's reputation simply because we disagree with them? So far, $500 million. Now, everyone's gonna want a MAGA hat.
Rush To Judgment was scheduled to premiere at the 2020 Anthem Film Festival—a Libertarian event.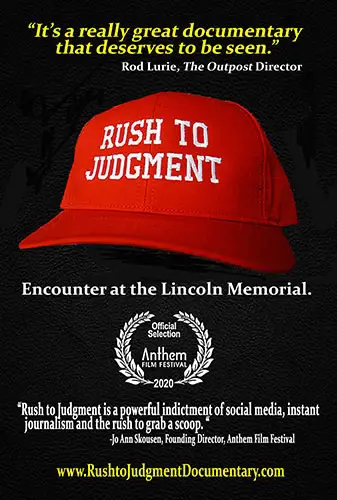 "…a remarkable and important...case study about the broken state of journalism..."