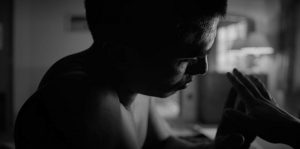 A story that chronicles a year in the life of a middle-class family in Mexico City in the early 1970s.
Kicking off a 30-hour marathon of ten nearly consecutive films in the mountain-top Chuck Jones Theater of the Telluride Film Festival, an early morning Q&A with Alfonso Cuarón (Gravity, Y Tu Mamá También) preceded his new film, Roma. The Mexican director delineated his bond with fellow filmmakers Alejandro González Iñárritu and Guillermo Del Toro, chuckling, "I don't have breakfast without consulting Guillermo." On his stylistically-scattered filmography, Cuarón joked, "maybe I shouldn't be so promiscuous." On his breakout film Y Tu Mamá También, he recounted telling cinematographer Emmanuel Lubezki, "let's make a film like we would have made before we went to film school before we knew there were rules." Finally, Cuarón described the autobiographical nature of the new film, which won the Golden Lion one week later at the 75th Venice Film Festival 5587 miles away. According to Cuarón's buddy Del Toro, the president of the jury in Venice, the film won the top prize by a unanimous vote.
"…includes brilliant moments of humanity…"
In reality, the universal admiration from the Venetian jury very clearly reflects an egregious case of nepotism. Roma, a portrait of Cuarón's childhood nanny, is endearing but cinematically uninspired, especially compared with the magnificent visual achievement of Children of Men and Y Tu Mamá También. In listless digital black and white, most every shot is a slow burn, as if he couldn't afford more than a stationary tripod. This shortcoming can be attributed to Cuarón's decision to serve as cinematographer himself after usual collaborator Lubezki could no longer fit the schedule. The tender story addressing the oppression of domestic workers includes brilliant moments of humanity, making the film attractive to the average viewer, but this film would not have received such praise had it come from a lesser known director.
Considering that Cuarón produced, directed, shot, and co-edited the film, I can't say it was lazy. The film will deservedly receive attention for its autobiographical examination of social hierarchy, but the artistry is simply lacking. Cuarón would have done better to employ a professional cinematographer that could elegantly translate his vision using more expressive visual language. If Cuarón can combine that intimate sense of love and empathy with the masterful production of his prior films, well… I guess you'd have another Y Tu Mamá También.
Roma (2018) Written, Shot, Produced, Directed and Co-Edited by Alfonso Cuarón; Starring Yalitza Aparicio and Marina de Tavira; Co-Edited by Adam Gough; Executive Produced by Jeff Skoll, Jonathan King and David Linde; Roma played at the 2018 Telluride Film Festival.
7 out of 10 Oscars