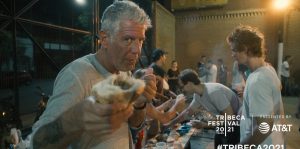 I can't remember the exact moment that I was introduced to late chef/writer/telejournalist Anthony Bourdain. It was some episode of No Reservations or another, and after watching it, I decided that he was one of the coolest people on Earth. Roadrunner: A Film About Anthony Bourdain does nothing to dispute my opinion, but a whole hell of a lot to reinforce it.
"He committed suicide; that f***ing a**hole," says Anthony Bourdain's friend, painter/musician/actor John Lurie somewhere right around the beginning of the film. While that might be jarring to some, it's true. Anthony Bourdain killed himself in 2018 on June 8th, a little more than three years ago. We can also agree that suicide is a selfish act. Bourdain himself would agree, most likely. He would also probably love that Lurie called him an a**hole posthumously because Bourdain was not one to stray away from strong language and sensitive subjects.
Thankfully, Roadrunner is not fully about Bourdain's tragic end. It instead focuses on his career as host of the shows No Reservations and Parts Unknown. As well as his family life with second wife Ottavia Busia-Bourdain and daughter Ariane, and his subsequent relationship with actress/director Asia Argento. All the while, we follow him and his long-time crew to different destinations, whether it be Vietnam with Phillipe Lajunie or France with Eric Ripert. Whether it be war-torn Beirut or impoverished Haiti. Bourdain was not afraid to live on the edge, often stating that he had nothing to lose.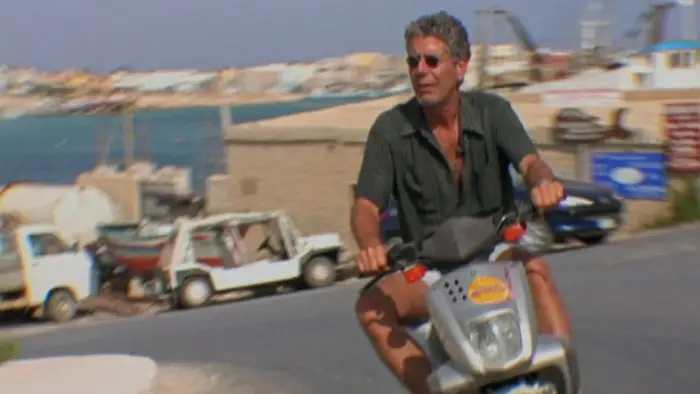 "…not afraid to live on the edge, often stating that he had nothing to lose."
We meet some of Bourdain's friends who say that he always possessed some darkness, which isn't a surprise if you even know some basic history about him. Bourdain was a reformed heroin addict who would transfer his addictions from drugs to cooking, writing, and jiu-jitsu. He always felt that something was missing inside, though. He felt especially dark after trouble in his relationship with Argento, and this was the beginning of the end for him.
I loved Roadrunner: A Film About Anthony Bourdain because, like Bourdain himself, the film pulls no punches. It's fearless in that it's not looking to beatify its deceased subject. Even showing his longtime friend, artist Dave Choe, defacing a mural of Bourdain in New York. His friends aren't afraid, to be honest about how difficult he could be or how depressed he really was. They're also not afraid to cry and curse the circumstances that lead to his death. It's particularly moving to me when Josh Homme from Queens of the Stone Age tears up because I'm a huge fan of his as well. Homme also lent music to the film, as did John Lurie.
Morgan Neville, who also directed the beloved Mr. Rogers documentary, Won't You Be My Neighbor?, really shows us who Bourdain was in a way that I personally believe that Tony would've loved himself. Because most importantly, it's honest. It's a warts-and-all depiction. It's also funny, heartwarming, and absolutely devastating in its final moments. I was weeping almost uncontrollably by that time. It's as good of quality as something that Bourdain would've made himself with his long-time team, all of whom we get to meet through the course of the film.
Roadrunner: A Film About Anthony Bourdain is the next best thing to having Anthony Bourdain back for two hours, which we would certainly all prefer. The wealth of footage from his career is outstanding. We all wish said career could've been longer, or better yet, that he quit while he was on top to rest on his laurels somewhere beautiful. Unfortunately, this wasn't the way Tony went out. Luckily for us, we will have this wonderful film, his books, and his shows to remember him by. May he hopefully finally rest in peace.
Roadrunner: A Film About Anthony Bourdain screened at the 2021 Tribeca Film Festival.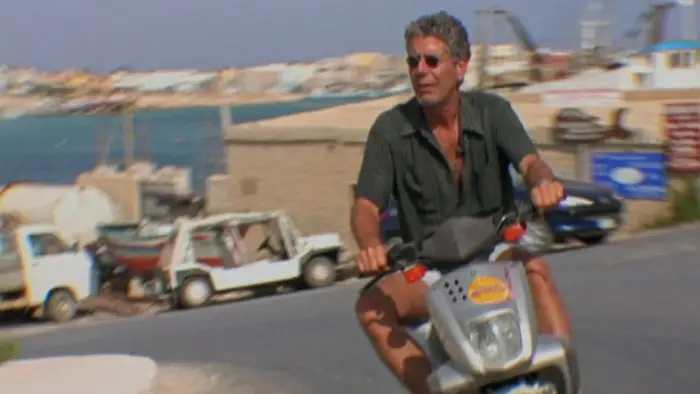 "…We all wish said career could've been longer, or better yet that he quit while he was on top"