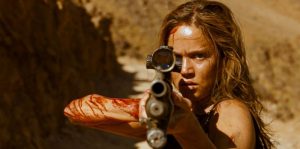 To discuss writer/director Coralie Fargeat's Revenge, and to get to the heart of why it's so good, first requires a look back at one of the more unsavory corners of genre cinema.
So, into the muck we go: of all the sordid and moral panic-inciting sub-genres of what came to be known as exploitation movies, perhaps none is more notorious than the "rape-revenge" film. Its basic narrative conceit, established back in the drive-in days, is as blunt and brutal as movie storytelling can be – while "rape-revenge" might be a pejorative descriptor, it also very neatly sums up what these films are all about. In the first act, a female character is violated and victimized by a group of (usually) all-male assailants, and she spends the remainder of the film recovering from the attack and, eventually, extracting bloody vengeance on everyone responsible.
From a critical standpoint, few other categories of movies could inspire such outrage at their tastelessness and extremity – Roger Ebert, for example, gave both the prototypical "rape-revenge" movie, 1978's I Spit on Your Grave, and its 2010 remake the zero-star rating he reserved for only the vilest of films. It's easy to see Ebert's point; these movies seem tailor-made to cater to viewers' basest and ugliest voyeuristic instincts, their particularly egregious deployment of the male gaze offering up titillation by unsparingly depicting both the sexual assault itself and the graphic violence that ensues in its wake.
Still, within that sleazy framework, there might also be the seed of something more positive. After all, by its very design, the "rape-revenge" movie offers a female protagonist an opportunity she's too rarely afforded in most other genres: the chance to seek violent retribution against the very worst examples of masculine aggression and entitlement. Can something so predicated on shock and salaciousness, if shepherded by the right creative talent, tip the scales in favor of empowerment over exploitation?
"…to show her would-be murderers that hell indeed has no fury like a woman scorned…"
French filmmaker Fargeat addresses that question head-on with Revenge, and the answer is a resounding – if surprising – yes. In ways both big and small, the film imbues a familiar formula with righteousness and subtext and even a sort of ragged beauty that could likely only be achieved by a female voice. Fargeat isn't interested in either condemning or redeeming the film's disreputable predecessors, but instead, she wrests control of the genre and uses its conventions to boldly achieve her own ends.
Revenge's story is as to-the-point as its title. Matilda Lutz stars as Jen, the model-beautiful younger mistress of wealthy, married-with-children Richard (Kevin Janssens), whom she travels with to a luxury vacation home in the middle of the desert for a quick fling before his buddies arrive for a weekend of big-game hunting. Richard's rather less put-together friends, Stan (Vincent Colombe) and Dimitri (Guillaume Bouchède), show up early for a night of alcohol- and drug-fueled partying, and the next morning, things take an irreversibly dark turn: one of the men violently takes advantage of Jen, one passively refuses to intervene, and one makes a cowardly attempt to smooth things over. This all quickly spirals into a horrific moment in which Jen is left to bleed to death at the bottom of a canyon, but – through the good graces of both fate and her own survival instinct – she lives. And, from there, she proceeds to show her would-be murderers that hell indeed has no fury like a woman scorned – particularly when there are high-powered shotguns involved.
The first thing viewers are likely to notice about Revenge is Robrecht Heyvaert's gorgeous cinematography; the film has a visual lushness that sets it far apart from the grungy, amateurish-looking grindhouse films that it borrows from. In its vivid, saturated color palette and sharp, precise compositions, Revenge somewhat recalls the highly stylized arthouse bloodbaths of Nicolas Winding Refn – a comparison that's solidified even further by the pulsating synths of Robin Coudert's musical score. The film's aesthetic flourishes aren't just glossy window-dressing, however, and Fargeat establishes an intriguing set of visual symbols in everything from rugged landscapes to stunning macro photography of desert insects.
"…screenplay is smart and skillful in exploring how masculine desire and privilege can gradually escalate into savagery."
In fact, if there's a major complaint about Revenge, it's that the film occasionally feels a bit too arty for its own good, and the stabs at mysticism and allegory at times detract from its more visceral qualities. But, make no bones about it: the movie is still quite visceral, its bloodshed garish and excessive, its showdowns choreographed not for strict realism but for sheer intensity (particularly the deliriously nail-biting climax). Fargeat displays a flair for compelling chase sequences and refreshingly emphasizes survival over sadism – at times, Revenge plays almost like a female-centric variation on the hunter/hunted dynamics of First Blood.
In Lutz, the filmmaker finds a heroine with remarkable screen presence, and while very little of Jen's backstory is revealed, the actress is able to flesh her out with subtle glimpses of vulnerability and intelligence that make her more than just a righteous avenger. There isn't much in the way of dialogue once the film's plot kicks in, but especially in its early sequences, Fargeat's screenplay is smart and skillful in exploring how masculine desire and privilege can gradually escalate into savagery. The male characters are monstrous, yes, but by not simply turning them into one-dimensional maniacs, Revenge is able to make their comeuppance that much more personal and satisfying.
In fact, "satisfying" is maybe the most appropriate word to describe the feeling of viewing Revenge. It's amazing to look at, interesting to analyze, and has a gut-level intensity that's hard to shake. "Rape-revenge" movies have always wallowed in bad taste and, thus, left a bad taste, but this film turns out to be a refreshing alternative. You've got to think that even Roger Ebert would have liked it.
Revenge (2018) Written and directed by Coralie Fargeat. Starring Matilda Lutz, Kevin Janssens, Vincent Colombe, and Guillaume Bouchède
4 stars out of 5