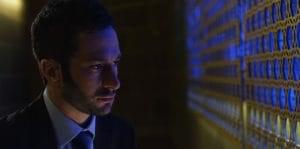 As a teen, I became a Christian in the early 80's. "Born Again" as they say. I threw myself head first into the Jesus Movement. I even went to seminary in hopes of a life devoted to the ministry of saving the lost. Today, I write movie reviews.
Don't get me wrong. I never lost my faith. I sort of lost my religion. I've become known as a "backslidden Evangelical." Clearly, I'm not the only one of my kind. Every year, a poll invariably comes out about how America is losing its faith and how numbers are slowly dwindling in our churches.
I was recently asked to review Aaron Wolf's documentary Restoring Tomorrow and a few minutes in I realized why I was asked. The churches dwindling destiny is not unique to Christianity, but to Judaism too.  Restoring Tomorrow centers on the story of Los Angeles' first temple and its current state of decay. In 1862, the Wilshire Boulevard Temple opened with 40 families lead by its lay rabbi, Joseph Newmark. Today, the temple finds itself in the process of rehabilitation after board members decided that bankruptcy was not an option. Filmmaker Wolf as asked to not only document the temple's restoration but record its storied history.
"…centers on the story of Los Angeles' first temple and its current state of decay."
Wolf's connection to the temple is personal as his grandfather Alfred Wolf, born in Germany, received a divine opportunity to attend Hebrew Union College in Ohio, just before the Nazi rose to power in his homeland. Wolf's grandfather would serve as the Temple's rabbi from 1949-1985.
Restoring Tomorrow is less about the overwhelming task of restoring the large ornate temple and more about reminding this current generation the temple's rich history as the spiritual center of Judaism in Los Angeles. The current temple was built in 1929 under the leadership of Rabbi Magnin. Its design featured a large dome over the main sanctuary with ornamented with black marble, gold, mosaic tiles, and Biblically-theme murals. The murals were made by Hugo Ballin and commissioned by studio head Jack Warner and his two other Warner brothers. Not to be outdone, sizable donations were also made by MGM studio head Louis B. Mayer.
A temple is more than a building, what matters is its people. Its body is comprised of its leader, the rabbi and the congregation. The congregation finds inspiration from the rabbi. The members find support from one another. It was also a training center for its youth with the creation of Jewish Summer Camps (admittedly a stolen idea from the Christians). Also, outreach to its surrounding community and to leaders of other faiths.
"In a way, it's Wolf's re-discovery of faith after falling-away as a teen…"
In the beginning, I mentioned the slow decline in the faithful. Over the decades, temples all over Los Angeles (and America) began to close. Once the temple of the Hollywood elite located in the Wilshire district, Wilshire Boulevard's numbers declined as congregant moved away from Downtown to the Westside of L.A. As donations declined, so did the up-keep of the temple. Years of neglect forced the tough decision whether to close for good or make a last-ditch effort for revival.
Wolf weaves together an engaging oral history of Wilshire Boulevard Temple using photos, archival film clips, and interviews with long-time members and its current Rabbi, Steve Leder. In a way, it's Wolf's re-discovery of faith after falling-away as a teen. The temple's history is told with love and spoken directly to the others who have "fallen away."
In the end, Restoring Tomorrow reminds us that you can restore an old historic building to its original beauty, but it's ultimately about the people. Wilshire Boulevard Temple not only had to rediscover exactly what community they needed to reach but the purpose within the community. Is faith in America dead? God only knows.
Restoring Tomorrow (2018) Directed by Aaron Wolf.
7 out of 10 stars