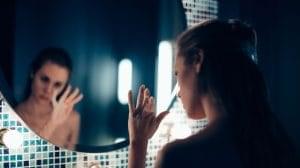 Have skin, will shed.
Every person with healthcare know-how, whether an inkling or library-worthy, will agree that skin is the first layer of defense and arguably the first determinant of wellness. Kira Mabon (Rebecca Forsythe) relates more to the latter; her disdain for the appearance's inevitable breakdown is a roll-off-the-tongue topic. Imagine the reaction when Kira contracts the most intense kind of psoriasis, one that starts out as a spot and can grow spread to half of the body overnight. Thank the heavens for skin grafting, but with time as limited as it is Kira needs a faster procedure. And then she finds out that the epidermis of others can alleviate the condition – just "glue" a piece, patch or whole area of theirs onto hers.
"Cronenbergian material evokes primarily (glorious) nastiness…"
Cronenbergian material evokes primarily (glorious) nastiness, but director Norbert Keil decks his first feature with unprecedented beauty. Echoes of Nicholas Winding Refn's style and his own appearances-matter outing The Neon Demon are clear here in the audacious lighting and production design. Kira is a vain soul, so when connecting with her as an individual presents a challenge Keil draws us into her world with his visual sense. To have the look of Replace be an extension of the protagonist – looking all vivid on the outside, unnerving darkness safely hidden – makes every element click together even if Kira herself is quite fractured. Other than the disease, hallucinations of a little girl and short-term memory loss also plague the character.
Replace's Kira-centric approach demands a solid performer, a role that Forsythe fits with ease. No, don't doubt yourself, she is the daughter of character actor William Forsythe, who is renowned for his on-screen villainy. How the rose didn't bloom so far from the tree is visible to a satisfying degree here, especially when Kira first knows how to dress up the dry spot when her French neighbor, Sophia (Lucie Aron), steps on some broken glass and removes a dime-sized piece of loose skin. Here, Forsythe wonderfully exhibits a fleeting mix of discomfort and elation, plus a slip of her murderous self. The quiet sequence doesn't transform the character as much as Kira's actual first kill, drowning in the setting's crimson and that of her victim, but it is a great primer for later displays of Countess Bathory-ism. One death in particular recalls an iconic moment in Kiyoshi Kurosawa's chilling Cure, this time with more noise – strobe lights and bass-heavy tune.
"Replace has to undergo another jarring transformation, or reverse-transformation…"
Then, the descent begins, in terms of Kira's life and her story. Replace performs that titular action with its vision, morphing into a "who am I?" affair after Kira she broke into the offices of Dr. Crober (Barbara Crampton) to retrieve her file. Ability to suspend disbelief is taxed, and might have to be abandoned, to take in the latter half of the film, resulting in appreciation for Kiel and co-writer Richard Stanley's startling revelation about Kira's condition capping at "half." Though Crober's medical facility is the definition of advanced, it can't seem to afford adequate security. The film's erotic throughline is covered but can never leave underwhelming waters despite an 11th-hour twist.
On the bright side, the film does get back to its initial horror skin, which means more time for Crampton to inject convincing menace and the goosebumps-inducing prosthetic effects (from Katharina Grethlein and Philipp Rathgeber) to shine. Still, for these to arrive, Replace has to undergo another jarring transformation, or reverse-transformation. Still, whatever condition the narrative is in, Tim Peter Kuhn's cinematography and a Cliff Martinez-like score never abandon the film's dollish-yet-frightful illusion.
There is a tangible sadness that Replace, as a whole, is an uneven experience. A sequence early in the film sees Kira "playing" surgeon with a corpse, but since that skin is dead it rejects her body. Maybe apply that notion to the living? That is one way to make the descent more chaotic (and effective) but not schizophrenic. Even a couple of the twists can be weaved into this without losing their impact.
For the most part, though, Replace sees Kiel stepping from "unknown" to "deserve some attention." Some fumbles, yes, but at least there is momentum.
Replace (2017) Directed and Written by: Norbert Keil. Co-writers: Richard Stanley, Scarlett Amaris (additional dialogue). Starring: Rebecca Forsythe, Lucie Aron, Barbara Crampton, Sean Knopp, Adnan Maral.
6 out of 10