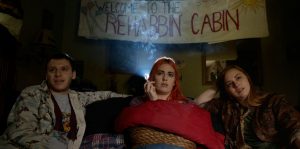 If you had the chance to save one of your favorite child actors who has fallen off the straight and narrow, would you? Co-directors Kate Beacom (who also wrote the film) and Louis Legge answer that question in their feature film debut, Rehab Cabin.
Our story involves best friends, Chloe (Lacey Jeka) and Domenic (Scott Mandel), who are spending their final days together as Domenic is set to return to college. After watching one of their beloved childhood films, the two lament over the current condition of their favorite actor, Amanda Campbell (Alexandra Steggins); in particular, her struggle with alcoholism and recent lousy movie choices.
Opportunity strikes when Domenic accompanies Chloe on her late-night shift as a limo driver. Amanda Campbell stumbles drunk into Chloe's limo, and after a belligerent exchange of words, she passes out. Now is Chloe's chance to save her idol and possibly make a new friend. Reluctantly, Domenic agrees, and the two take Amanda to Domenic's family cabin in the woods for a little amateur rehabilitation.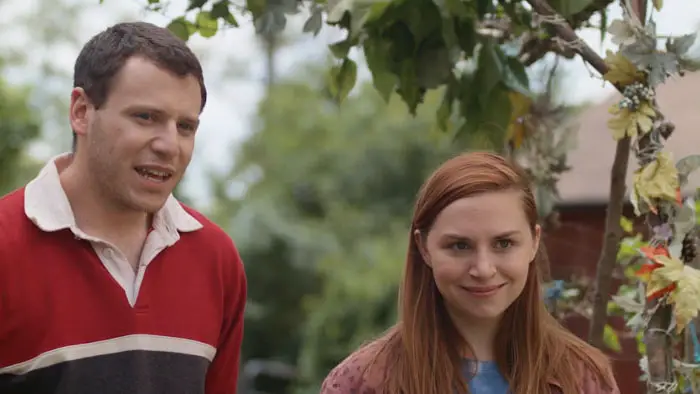 "…the two take Amanda to Domenic's family cabin in the woods for a little amateur rehabilitation."
Rehab Cabin is right up my alley. Today has to be the Golden Age of independent filmmaking because it gives filmmakers a chance to tell stories and find an audience without the aid or creative murder of the big studios and the bloated Hollywood process. This comedic drama is not a big enough story for any of the studios to get behind, but it's a scaled-down story that's fun to watch and doesn't insult our intelligence.
As Chloe and Domenic, Lacey Jeka and Scott Mandel are the stars of the film. Firmly established at the opening as narcissistic millennials, the joy comes in watching their relationship grow and evolve in a sweet and slightly sinister way. Both are two emerging actors, and Rehab Cabin shows off their dramatic and comedic chops quite well.
This is less a comedy but more a light drama as there are no real laugh-out-loud moments. Where Beacom and Legge succeed is in taking a preposterous situation and grounding it. They, along with co-writer Domenic D'Andrea, make it relatable. It's not only about asking what you would do if you kidnapped a celebrity and forced them into your brand of rehab. The film also takes an honest look at the consequences of one's actions, the kidnapping and cover-up. Where the story shines is the very different motivations of our protagonists, and the ending is immensely satisfying.
Rehab Cabin could have easily been just a slapstick comedy looking for laughs in a wacky premise, making this a very different review. Thankfully, it is not. The story is sweet. Its heart is the relationship and friendship between Chloe and Domenic. This is an excellent film for a casual evening of chillin' and watching a good story told well.