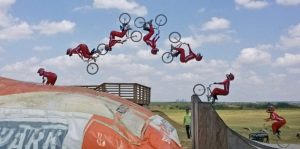 FANTASTIC FEST 2021 REVIEW! Seeing that this review is for Rad, a couple of questions must have begun rattling around your head. 1) Did someone remake the 1986 Hal Needham movie? 2) If not, why is there a new review for a 35-year-old film? Well, the cult-favorite about BMX racing is getting a 4K restoration after all these years. Does this Karate Kid, but with bikes, deserve such a snazzy visual and audio upgrade?
Cru Jones (Bill Allen) does not mind his small-town life, hanging out with his friends and taking care of his younger sister Wesley (Laura Jacoby). But, the skilled BMX rider longs to prove himself on the track. Coincidentally, his hometown is now home to a brand new one: Helltrack, so named because of its grueling terrain and steep drops, allows Cru to do just that. While ostensibly for professionals, the business behind the new racing area, has offered an olive branch to locals looking to compete.
Any hometown lad or lass can compete in the qualifying rounds, and regardless of where they finish, so long as they do, will be given $10,000. Cru places in the top 5 in each qualifying race, so now he is in Helltrack. However, unsportsmanlike conduct by the professionals and corporate shenanigans threaten to derail his dream before it gets off the ground. But, with the support of his family and hometown, and a budding relationship with rider Christian (Lori Loughlin), Cru summons the willpower necessary to stay in the fight.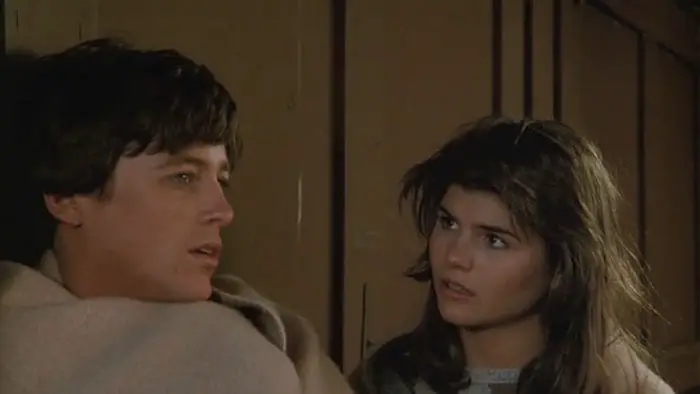 "Cru places in the top 5 in each qualifying race, so now he is in Helltrack."
Upon its initial release, Rad was met with poor critical reception and failed to recoup its $3 million price tag at the box office. But, once released on home video, it began to gain a cult following. So much so, that for two full years after its release, Rad was still in the top ten most rented titles. As such, it makes sense that Vinegar Syndrome would pick up the title, as they specialize in cult oddities and obscure titles. Now, that we understand why Rad is receiving the 4K treatment, let us dive into the movie proper.
I had seen Rad once or twice before it landed in my lap to review for its upgrade. And all three viewings of the film have left me with the same impression- it is a cheesy, goofy title with bad dialogue, a cliched plot, a huge heart, and an absolute love of BMX bikes and tricks. Geoffrey Edwards and Sam Bernard's screenplay is full of awful dialogue. It's all exposition, with minimal characterization. Cru really wants to race, gets his shot, is understandably upset when additional and unsanctioned obstacles are thrown his way, and ultimately races. That's not a character, that is a plot. With the sole exception of the main BMX antagonist, who is not even that bad (more on him in a bit), this holds true for every character.
It certainly does not help the movie's case that Bill Allen is simply terrible as Cru. He is lifeless and bland, with only two facial expressions- wry smile or scowl. The one-dimensional writing and the lousy performance fuse to create a lead that is impossible to care about. Luckily, Allen is surrounded by a colorful supporting cast. While Talia Shire is saddled with the stereotypical, outraged parent role, she does what she can.
"…if you are a fan, then the love and care Vinegar Syndrome put into this release makes it a must-buy."