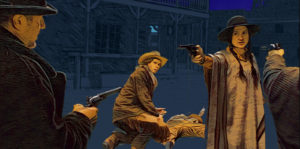 As rotoscope is an animation technique of tracing over live actors, the performances are key to Quantum Cowboys achieving lift-off. The barnstorming ensemble of actors and musicians blasts this up behind the sky. First off, as the punk band X is my all-time favorite, the saloon filled with multiple John Does was one of those cinematic treats you can't expect because some things are that cool. It is also highly satisfying seeing Alex Cox, the famous director of Repo Man, acting in a western as weird as his films. As Cox is the world's foremost authority on spaghetti westerns, he brings a wealth of tradition into his depiction of the drunken priest. He is obviously having fun, and you will too.
The leads not only hold everything together, but they also hoist it all up in the air and twirl it around their heads. Gordon shows the richness of his comedic side; his bewilderment is infectious. Way anchors the audience's perspective in his portrayal of what I took as a cowboy from Sweden. Gladstone is the standout. She holds a power as a western hero that creates a palpable humming sensation up your arms.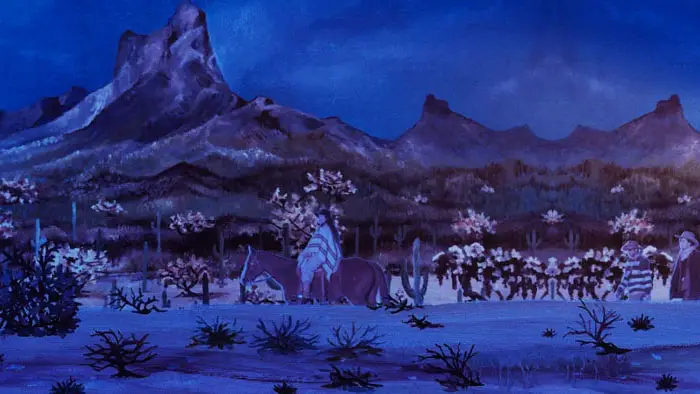 "…both warm and eerie…"
All the while, Gelb's score creates an atmosphere that is both warm and eerie throughout Quantum Cowboys. It feels like the true sound of the desert. If you are lucky enough to live in the land of the lizards, you will recognize it immediately. And if you are fortunate enough to have access to legal marijuana, this is the movie to test it out on. We used to call them trip movies back when there was still real LSD. The unearthly visions enhance the cannabis effects, taking you to another planet.
Due to its gentle nature and familiar Western gear, Quantum Cowboys is one of the best entry-level trip movies ever made. This is something you can show your square parents when they get stoned for the first time. For lovers of animation, cult movies, and getting high, this easily gets the highest recommendation.
Quantum Cowboys screened at the 2022 Loft Film Festival, the 2023 Oak Cliff Film Festival, and the 2023 Portland Festival of Cinema, Animation & Technology.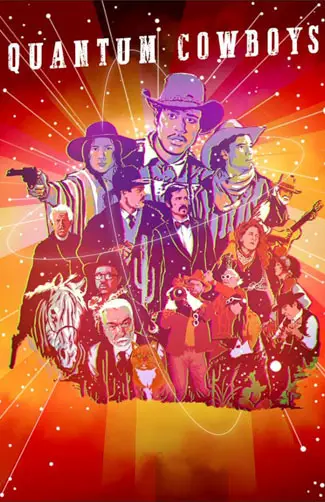 "…the new king of the psychedelic western."