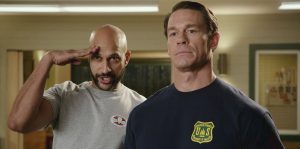 The film is primarily about Jake proving to Commander Richards (Dennis Haysbert) that he's the right person to take over for him. After seeing Jake's rescue of the kids on the news, Richards places him on the shortlist and will arrive at their base for an interview and inspection. In the meantime, Jake has to make his station orderly and clean, but the kids are finding ways to foil that plan.
Can Jake get his crew and station in proper shape to earn his promotion? Can he survive the weekend until the kids' parents arrive? Will Amy get it through Jake's head that she likes him? Will supervising these kids teach Jake a lesson about himself? Is there more to Jake's life than being so serious/boring? Will Keegan-Michael Key and John Leguizamo provide any kind of desperately-needed comic relief?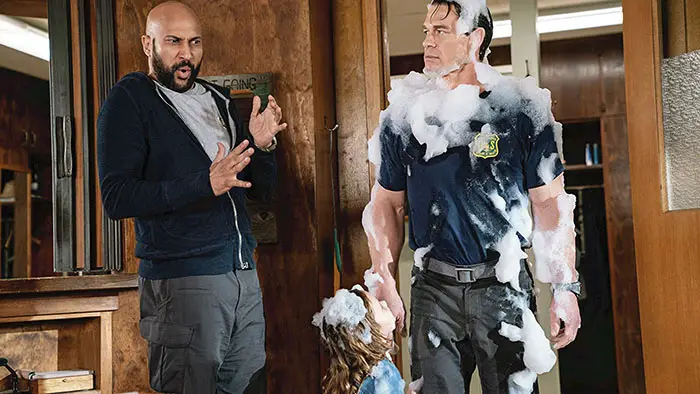 "…every scene is a series of sight gags and pratfalls with an obligatory life lesson at the end.."
I'll cut to the chase. Playing With Fire is decidedly a kid's film with very little for adults to enjoy. If you can regress a few decades, you'll probably have fun. The film is wall-to-wall silliness, and I did laugh at times. Every scene is a series of sight gags and pratfalls with an obligatory life lesson at the end. You can almost feel the comedy beneath you with a high-pressure fire hose and bucket of powdered soap. Grown men are slipping around on a floor covered in oil. How about an entire poop sequence? And hitting a particular niche, kids and Bronies will also appreciate the numerous references to My Little Pony.
If there is any redeeming value in the film, it's a fantastic cast that takes their role (and wackiness) seriously. Key, Leguizamo, Greer, and Haysbert actually look like their having a good time and investing their acting talent in this silly story without flinching. No one's phoning it in. John Cena is just a little too cartoony in his straight-laced character and somehow manages to make "normal" feel over-the-top.
Personally, I would dread having to see Playing With Fire again. I'm just not the right audience, especially after just seeing The Irishman. I can tell you, though, there was a lot of giggling and laughter in my theaters, and my twelve-year-old made me promise to buy the movie when it comes out on Blu-Ray. Take the kids and then find excuses to go to the restroom or refill your drink.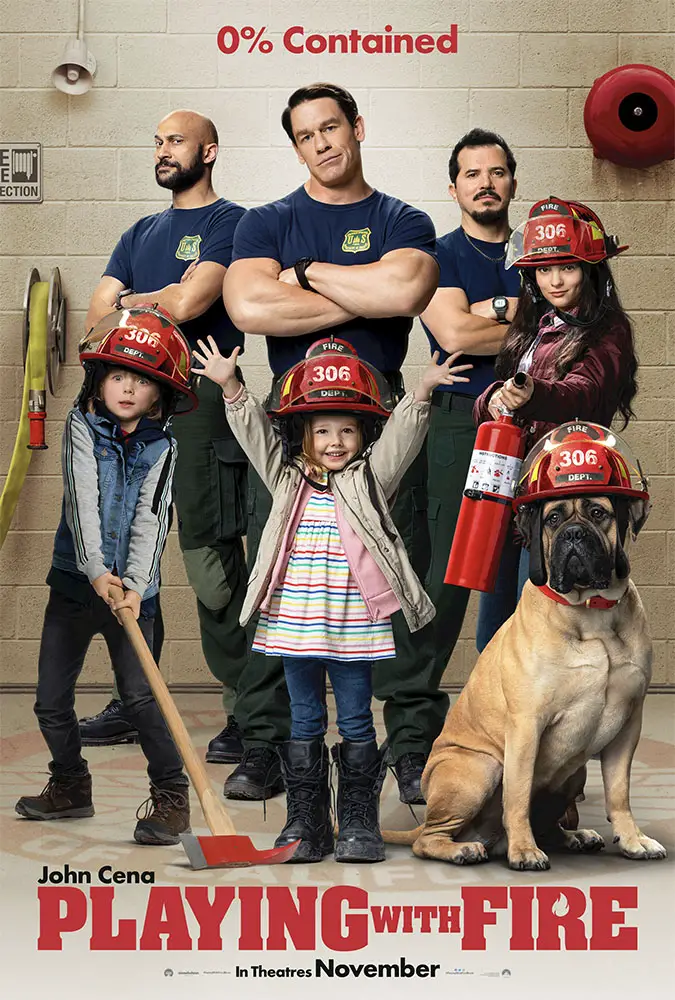 "…WWE superstar bringing his dramatic credibility to this Nickelodeon movie feature."