Efthimis Filippou's (the scribe behind L, The Lobster, and Dogtooth) trademark nihilistic humor finds a minimalistic home in Babis Makridis' Pity, an efficient satirical portrait that ends in a punchline. Marking Makridis' second collaboration with Filippou after L, the film hinges on the same deadpan dark comedy as its predecessors, adding another entry to the subgenre informally dubbed the "Greek Weird Wave." The film is a study of the quotidian life of a nameless upper-class lawyer who becomes addicted to misery — or rather, the benefits that attend a miserable existence.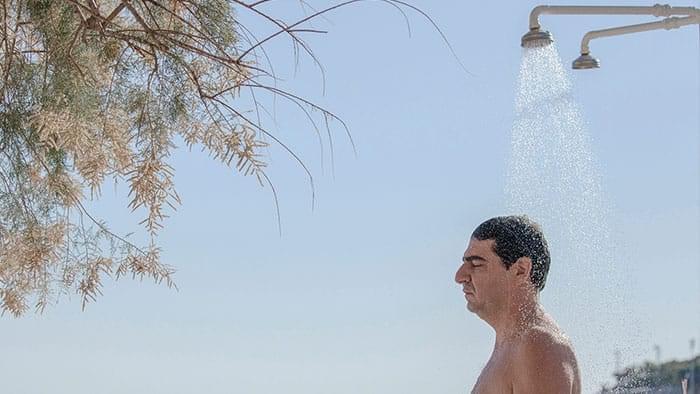 "…a cogent allegory for the perils of solipsism."
When the film opens, our protagonist (Greek comedian Yannis Drakopoulos) is in mourning for his wife — she's comatose with little chance of regaining consciousness. Compassion pours in from all around: his neighbor, who bakes him a bundt cake every morning; his dry cleaner, who shares words of sympathy; his pretty assistant, who indulges him in lengthy hugs. Before long, the man comes to rely on the services pity inspires, which, of course, poses an issue when the condolence efforts start to wane. So begins a series of contortions the man must make to maintain his pitiable condition. (At one point he reprimands his son for playing too "cheerful" a melody on the piano in case the neighbors think they're not sad enough; his measures only grow more absurd from there.)
Much of the humor derives from the repetitive nature of the man's life — breakfast bundt cake, dry cleaners, work, beach, hospital, repeat — and his increasingly drastic deceptive somersaults and attempts at self-wreckage. Intertitles voiced aloud by the man provide access to his poetic inner monologue and serve as chapter headings dividing up his routines. The film's aesthetic — be it from his home, the beach, or his office — is understated and modern in a dull way, complementing the deadpan dialogue and heightening our sense of the everyday.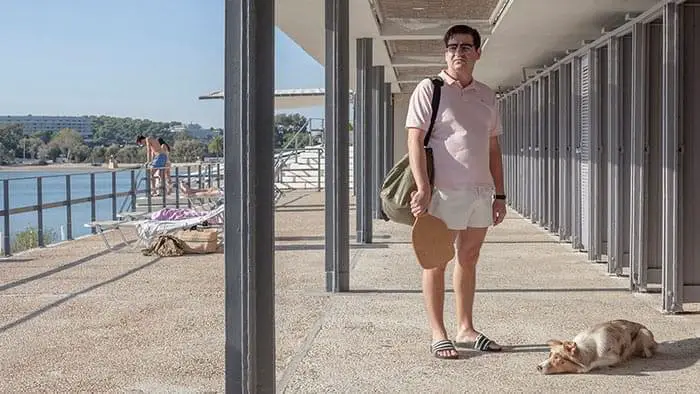 "Much of the humor derives from the repetitive nature of the man's life…"
Halfway through the film, it becomes clear exactly where the film's going, because the story is bleak, restrained, and one-note. Its predictability begins to feel tedious. But throughout, Makridis wisely reminds us of the man's wealth — his large collection of contemporary art pieces, his weekly 40 to 50 euro dry cleaning — which introduces a crucial critique of perennially dissatisfied individuals, specifically those who need not. By the end, Pity transcends its simplistic premise to become a cogent allegory for the perils of solipsism.
Pity (2018) Directed by Babis Makridis. Written by Efthimis Filippou and Babis Makridis. Starring Yannis Drakopoulos, Evi Saoulidou, Nota Tserniafski, Makis Papadimitriou, Georgina Chryskioti, Evdoxia Androulidaki. Pity played as part of the World Cinema Dramatic Competition at the 2018 Sundance Film Festival.
Grade: B