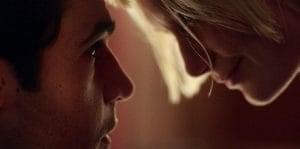 A man kisses his wife and baby goodbye and seemingly heads away on business, with a plan to check into a hotel, call an escort service, and kill an unsuspecting prostitute.
Being a high-powered, straight-laced businessman takes a certain level of restraint. Reed (Christopher Abbott) is that man. Living a seemingly perfect life, he and his wife Mona (Laia Costa) have just brought home a bundle of joy. This was the trigger, and Reed soon begins to entertain a dark fantasy that no one is the slightest bit aware of. One day he packs his suitcase, let's his wife know he is going out of town on business. Reed's plan is to lure a call girl to his hotel room in order to commit murder.
In Piercing, adapted from the Ryû Murakami novel of the same name, writer-director Nicolas Pesce crafts a perverse psychological thriller about secret lives, desires, and confronting taboos. Yet this film has much more on its agenda than titillation. As we follow Reed on his personal journey, acting things out, rehearsing his kill, pacing the room in anticipation of his victim, we are unaware that his fantasy might just fold back in on him.
"Reed's plan is to lure a call girl to his hotel room in order to commit murder."
Jackie (Mia Wasikowska) is the prostitute, desperate for money, yet seemingly well off. She reluctantly takes the job and heads off to the hotel room. Reed welcomes her in and, as you would hope, things don't go as planned. The story flips and turns, taking Reed to places that he never anticipated. We realize that his guest is as lost as he.
Piercing is an intimate movie. There are only three characters total that populate the narrative. Four if you count the baby. The action takes place indoors in small rooms and spaces. Pesce's direction keeps us engaged as the focus remains not on where we are physically, but where these characters might be willing to go mentally. There is almost a darkly comic tinge to the proceedings with a rich color palette and story beats that play like comedy despite the disturbing. I would say it feels like a scaled back, more psychotic and fetishy version of Scorsese's After Hours.
"A movie about acting out fantasies that goes to some pretty dark places…is a big ask…"
Abbott and Wasikowska are both wonderful and fully capable of holding the film in their tight grip. Abbot's approach is a tightly-wound man, eyes darting about as his plans spin out of control. Wasikowska is brilliant as the prostitute that is either clueless or fully in control. Laia Costa's moments on screen as the supportive wife are few but worthy of commendation as they are painfully funny.
This had to have been a hard piece to adapt.  A movie about acting out fantasies that goes to some pretty dark places, with limited locations, is a big ask of today's movie-going audience who are used to rapid-fire dialogue and settings with vistas for miles. Yet Pesce, his cast, and crew all get it to work the best that it can. Darkly comic, disturbing, and fun, Piercing is a vulgar little thriller that is one you watch without the one you love.
Piercing (2018) Written and directed by Nicolas Pesce. Starring Christopher Abbott, Mia Wasikowska, Laia Costa.
7 out of 10 stars