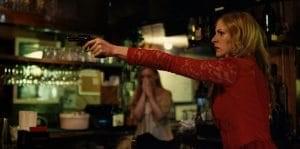 In the eternal balancing act between style and substance, style is often considered the runt. It's brushed aside as the lesser of the two and paired with words such as "superficial" and "pretentious." I, other the hand, fully believe that a movie can live on style alone if that should be its objective and that there is a great enjoyment to be found in such a movie. Pickings, written and directed by Usher Morgan, is not that movie, because its sense of style is unrefined.
Even though Tarantino certainly didn't invent the exploitation film or the spaghetti western, he seems to have inspired—or emboldened, rather—a slew of filmmakers to indulge in the primal pleasures of those genres. Pickings has its fun, but it doesn't know how to harness or redistribute the energy at its fingertips. Several visual elements are meant to add some flair to the film, but they don't work for two reasons. First, they're ugly, particularly the "hand drawn" effect that sporadically takes over the screen. Second, there's no internal logic to how they're employed. There are exceptions to this, however, such as a gangster nicknamed "Hollywood" (Yaron Urbas), who exists in black and white while everyone else is in color.
"…gangsters walk into her bar and attempt to force their protective services upon her. One thing leads to another…"
Style aside, the movie does have some story and characterization under the hood. It follows Jo Lee-Haywood (Elyse Price), a single mother with a long and winding blood trail behind her. One day, some gangsters walk into her bar and attempt to force their protective services upon her. One thing leads to another and, all of a sudden, Jo's bar is filled with a dead gangster or two. This sets off a war between her and the local mob, which yanks Jo's past right into the present.
Even though the movie doesn't necessarily call for it, Price brings a welcome amount of humanity to Jo. She goes from small business owner to grieving mother to bloodthirsty cutthroat, and sometimes within a single scene. She provides footing for the outlandish story to remain somewhat grounded in reality. In fact, the best scene in the movie belongs to Price. Draped in a silhouette and making the most of a cigarette, she pitilessly interrogates a low-level gangster in a way that only a single mother and entrepreneur can: by evoking the fortune cookie wisdom of Tony Robbins. This is one of those moments where the movie's absurdness blends beautifully with its sober lead character.
Pickings might have two left feet, but it's not without its temporary pleasures. There are occasional moments of inspiration, stylistically and thematically, where the movie hints at its true potential. But most of the time, the movie is tripping over its desire to be noticed.
Pickings (2018) Directed by Usher Morgan. Written by Usher Morgan. Starring Elyse Price, Joel Bernard, Katie Vincent, Emil Ferzola, Samantha Zaino, Christopher Liam Gentry, Michael Gentile, Joe Trombino, Yaron Urbas.
5 out of 10