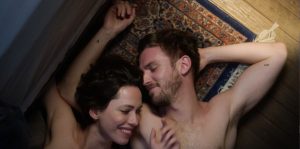 It's hard to sympathize with people who insist on doing dumb things. That's what Permission wants us to do. It's a story, in part, about making commitments, and in this case, it's about getting cold feet at the moment of truth.
Will (Dan Stevens) and Anna (Rebecca Hall) are a New York couple whose lives together are happy if routine. They're on the brink of getting engaged when a conversation with a friend makes Will think twice about it. They both worry that sex with the same person forever will become dull. Will never gets around to popping the question, and Anna, who has just turned 30, is understandably disappointed. She proposes that they both start sleeping with other people but continue living together as a couple. They set out on this new course with more than a little trepidation, and things get off to a rocky start. As the story progresses, all of the predictable problems you'd expect ensue — jealousy, misunderstandings, and regret.
"….both worry that sex with the same person forever will become dull."
We've seen this kind of movie before. Couples give each other the OK to start sleeping around, and as we know all too well, an emotional meltdown is just around the corner. Will and Anna are likeable enough, and it's hard to believe these bright, sophisticated folks could expect any good would come from this flakey experiment. Nevertheless, they charge headlong into a self-made path of destruction. The point, they say, is to find out whether or not they belong together.
There are a few laughs here and there, largely from Gina Gershon playing a dippy divorcee who conveniently arrives just in time for Will to make his first foray into playing the field.