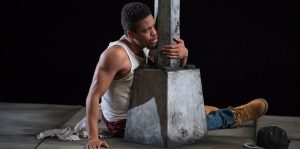 In the summer of 2017, Spike Lee secretly filmed a production of Antoinette Nwandu's play Pass Over at the Steppenwolf Theater in Chicago. A variation on Beckett's theme, call this one Waiting for Popo. In this case, however, the popo actually do show up a couple of times.
Moses (Jon Michael Hill)  and Kitch (Julian Parker), two young black men, trash talk through a long, aimless day on their usual Chicago street corner. Hitting the deck to dodge gunfire and dealing with overbearing cops, it's urban Groundhog Day, each the same as the one before. They rely on each other and their detailed fantasies of a better life to survive until dawn and start it all over again
"…Lee made use of all those potential disadvantages to inform his cinematic vision…"
The play is a powerful and damning picture of a day in the life of two men on the bloody Chicago streets. In an "in memoriam" moment Moses and Kitch try to enumerate all the people they knew who were killed in street violence or shot by the cops.
The film is decorated with familiar Spike Lee Joint accouterment in the shot composition, the music cues, and the pace. He makes it very much his own. Chicago has been much on his mind with this feature coming on the heels of his Chicago based re-imagining of Lysistrata: Chiraq.
Nwandu's dialog shapes street language into poetry and a compelling narrative, unique to these men and this place.
Usually, films of plays are dull things. Limited access to camera angles, bad sound, lighting that doesn't work for the movie camera. Theater and film are (appropriately) distinct media. Enter Spike Lee. He's a master craftsman and his skills are as relevant as ever. Lee made use of all those potential disadvantages to inform his cinematic vision and encapsulate the stage performance into a striking moving picture. 
Currently playing on Amazon Prime streaming service.
Pass Over (2018). Directed by Spike Lee, Danya Taymor. Written by Antoinette Nwandu. Starring Jon Michael Hill, Julian Parker, and Ryan Hallahan.
8 out of 10