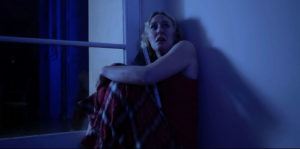 The loss of a loved one is an experience everyone must go through at some point in their lives. Some losses are harder to cope with than others and can even leave us with emotional or psychological scars that linger. Paralysis, by writer-director Levi Austin Morris, is a psychological horror film that explores that very subject.
Haley (Allison Lobel) is experiencing mental distress that is manifesting into physical discomfort. While living with her brother, a broken relationship with her family and self-distancing from her mother is causing this stress. Her brother Nicky (Levi Austin Morris) seems to also be suffering from past trauma caused by a strained family relationship. Haley is trying to help her brother while also keeping her personal suffering at bay. Unfortunately, Haley suffers from night terrors, hallucinations, and episodes of sleep paralysis.
After finding bruises on her body following a nightmare episode, Haley believes that the cause of her distress is external and seeks help. She gets in contact with Anissa (Lisagaye Tomlinson), a self-proclaimed investigator of paranormal phenomena. Together they survey Haley's home in search of any evidence that confirms Haley's suspicions.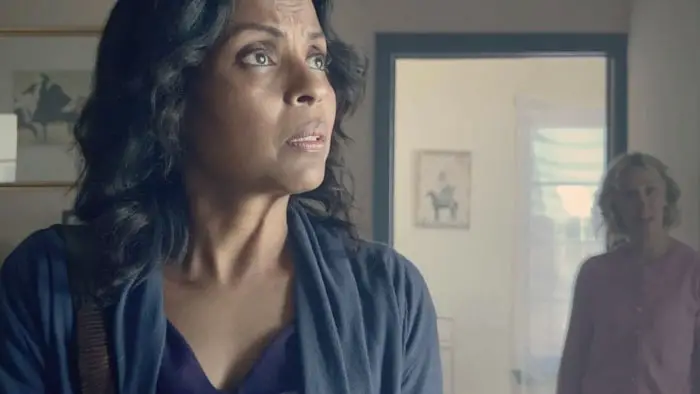 "…find[s] bruises on her body following a nightmare episode…"
Paralysis was shot entirely on an iPhone, which at first made me quite hesitant in expecting good quality. But I have to say, about halfway through, I forgot I was watching something that was filmed entirely on a digital camera that can fit completely in a pocket. Morris and Emerson Gregori both served as directors of photography, and they went to great lengths to create captivating and interesting frames with the minimal focal variety offered by an iPhone. Careful camera blocking and effective planning made the most of what the iPhone had to offer. In addition, the heavy use of practical effects and costuming replaces the presence of CGI. The postproduction effects are minimal but effective when used.
Admittedly, the movie starts a bit slow. However, it picks up speed as it reaches the halfway point and powers through for a dramatic conclusion. The story is psychological horror at its core but taps on the shoulders of themes that nearly everyone can relate to. These themes include grief, loss, and mental stress. In a time where Hollywood is going all out with CGI and special effects ad nauseam, Morris proves that a good movie can be made with a little money and a lot of effort without the need for expensive bells and whistles. Rather, the filmmaker focuses on sticking to a good script and telling a meaningful and relatable story.
If you have a soft spot for psychological horrors like The Sixth Sense or Jacob's Ladder, as I do, Paralysis is definitely worth checking out. I am continually impressed by filmmakers like Morris. Such artists are able to push the medium forward in their own way with the tools that they have at hand.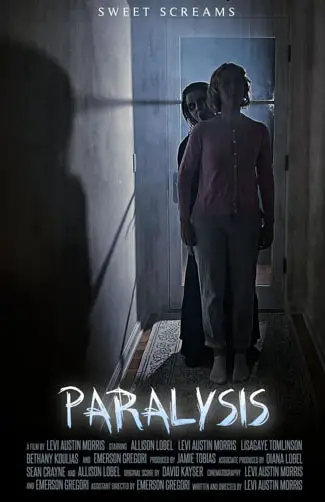 "…focuses on sticking to a good script...."