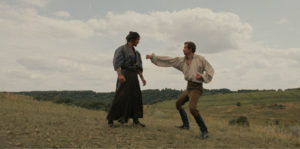 Set in 1840s Ukraine, Once Upon a Time in Ukraine hits the adrenaline immediately with an epic stylized sword fight, complete with katanas and dynamic fight choreography. This opening scene is just a taste of the samurai vs. gunslingers vs. ninjas carnage present in writer-director Roman Perfilyev's revenge film. Focusing on the crossing paths of a stoic samurai named Akayo Nakamura (Sergey Strelnikov) and former serf Taras' (Roman Lutskyi) personal quests, the narrative is a vehicle for dark comedy and sword-wielding mayhem. Akayo seeks revenge for his fallen master, while Taras hopes to rescue his beloved. In every frame, the movie boasts its Django: Unchained and Rurouni Kenshin influence.
Taras and Akayo begin their odyssey as captives en route to Jaromir (Andriy Malynovych), the most ruthless landowner in Ukraine. As a captive, Taras is enthralled with a passion for freedom, not only for himself but for his "sweetheart," a prisoner at Jaromir's sprawling ranch. Even in captivity, Akayo appears meditative, only breaking his calm demeanor to discuss his desire to kill the man who killed his master. That man is the cruel Harimoto (Gen Seto), a powerful Samurai commanding a squad of ninjas. Once the pair realize the connection between Jaromir and Harimoto, they become allies and begin their blood-soaked road to vengeance, leaving a trail of dead slavers and samurai in their wake.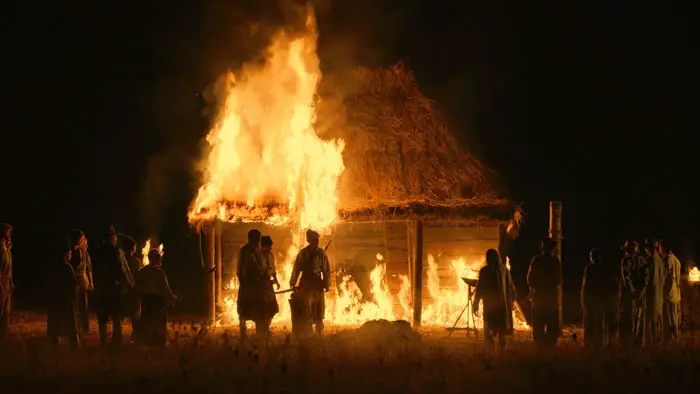 "…begin their blood-soaked road to vengeance, leaving a trail of dead slavers and samurai…"
Homage is an understatement when discussing Once Upon a Time in Ukraine. This grindhouse actioner was born out of love for the 1990s punk rock indie spirit and cult genre films of the VHS era. Revenge and rescue tropes fill Taras and Akayo's journey; killed master, stolen sweetheart, and an unlikely allyship are critical story points. Yet Perfilyev's commitment to genre-mixing allows the movie to breathe. Even when the filmmaker's stuffing the climactic battle scenes with Jewish arms dealers, ninja assassins, and samurai drug lords, every frame feels grindhouse to its core.
The plot always seeks to serve the over-the-top action sequences and glorious sword fights and shootouts. The flick features some solid fight choreography (a near must in the samurai genre). However, since every scene serves the incoming action, many characters play into their archetype with little deviation. Character flashbacks and transitions between fight scenes drag a bit and could use some (or any) subverting of audience expectations. But, honestly, this is a revenge tale at its foundation. The motion picture more than sells the audience on why Taras and Akayo are justified, delivering several bombastic battles and more than a few severed limbs.
More than anything, Perfilyev gets to show off throughout Once Upon a Time in Ukraine. He shows his love of genre storytelling and his ability to craft kinetic, compelling action sequences. In a narrative riddled with ninjas, samurai, gunslingers, high-stakes sword fights, and a menacing big bad in Seto, some middle scenes and subplots feel like anime filler. However, the major plot points hit hard, culminating in an engaging climax. Genres homaged span 1970s kung-fu to revisionist Western to modern Samurai films, each equally at home. The result is a blending of influences into a bloody Tarantino-esque delight.
"…a bloody Tarantino-esque delight."