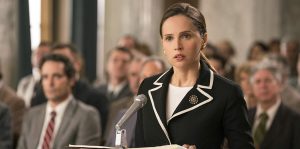 Watching On the Basis of Sex with an invested audience was quite an interactive experience. The film is fantastic, and the viewer feedback was instant. I've never seen people cheer and jeer throughout a movie with such passion. Their enthusiasm merely proves how incredibly inspiring and empowering Justice Ruth Bader Ginsberg's story is to so many people over the past few generations.   
The film engagingly chronicles the challenges young Ruth (Felicity Jones) faces as she overcomes gender bias throughout Harvard law school, settles for a career as a law professor because no firm would hire her, and makes a name for herself by championing the need for gender equality in United States' Laws. With the support of her devoted and loving husband, Martin (Armie Hammer), she tackles these prejudiced laws one by one – beginning with the groundbreaking case featured in On the Basis of Sex.
"…makes a name for herself by championing the need for gender equality in United States' Laws."
By capturing the perfect combination of romantic comedy and historical drama, Daniel Stiepleman beautifully brings his aunt and uncle's exemplary relationship and esteemed accomplishments to life. Ruth and Marty are the ultimate power couple because they work as a team in all aspects of their lives. Since everything they do is out of love and respect, it doesn't even feel like one is sacrificing something for the other. Marty is happily domestic, preparing meals and bouncing the little ones on his knee. Ruth remains fearless and poised when dealing with demeaning men who underestimate her intellect, wit, and skill.
Young Ginsberg's impassioned plea before the court reminds us how far we've had to come over the years. It also encourages a gut-check for those who begin to fall behind the times. As she brilliantly argues, the law must reflect the culture and people of this great nation. Outdated and prejudiced laws only do us a disservice. In a genius move, the Ginsbergs opened the door to gender equality by demonstrating how the law was prejudiced against a single man who cared for his mother.