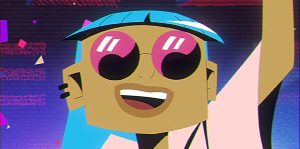 SXSW FILM FESTIVAL 2021 REVIEW! If you are unfamiliar with Reggaetón, it's a Puerto Rican music genre, which is a combination of American hip hop, Latin American, and Caribbean music. The animated short Nuevo Rico opens with those groovy tunes and a colorful palm tree giving off a fun Miami vibe with the subtitle "Patria O Death," meaning homeland or death. Right then, you know director Kristian Mercado is about to take you on a spirited, wild ride. Feeling like Speed Racer, the film immediately puts you into motion, as a ruthless duo of sister Barbie and brother Vico drive their car in a race against authorities, and they are transported to a mystical forest.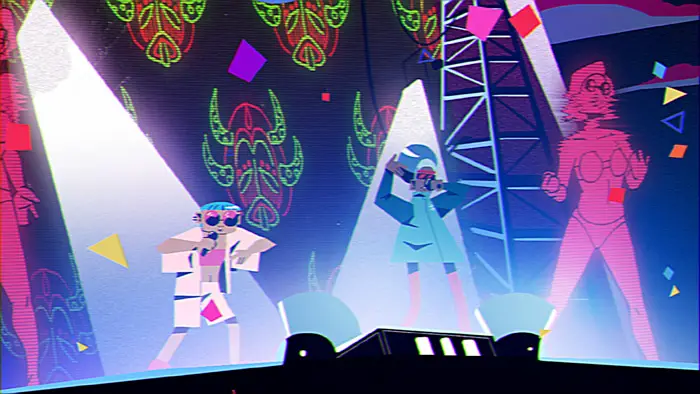 "…sister Barbie and brother Vico…are transported to a mystical forest."
A psychedelic experience unfolds and places them within the grips of what appears to be a deal with Satan, and they then achieve Reggaetón stardom. Barbie and Vico's fame continues to grow bigger and bigger, though hints of another ancient world linger ahead and the shadow of a devilish figure lurking around corners. But Vico is trapped by drugs, sex, and his ego. An unhappy Barbie wants to be a real person again; only it's too late. Be careful what you wish for appears to be the message that Mercado reveals in a subtle but fascinating way: thus, the title Nuevo Rico, which roughly translates to newly wealthy.
Mercado presents his vision, an incredible mix and fusion of anime, myth, and psychedelic style with a great soundtrack. Nuevo Rico is not just a trippy visual journey. It's also enriched with messages of a street culture and its infinite styles steeped in Latino heritage and peoples ripping across the screen but not without purpose. The many animation techniques throughout this 16-minute ride include hand-drawn elements, cell animation, 3D animation, and loads of hallucinatory visuals that are fun to see. This movie is a testament to some excellent artists and creative thinkers, which hail from across the globe, including Colombia, Mexico, Puerto Rico, United States, and Vietnam.
Nuevo Rico screened at the 2021 SXSW Film Festival.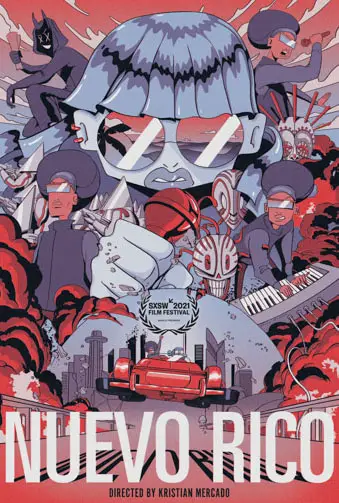 "…an incredible mix and fusion of anime, myth, and psychedelic style..."