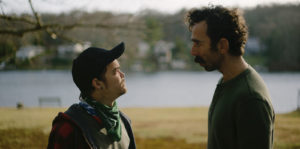 Writer/director Christopher Rucinski's Northern Shade takes the neo-noir genre into America's backwoods. Justin (Jesse Gavin) is a drunk military veteran languishing his life away on his father's boat. He can't sleep at night as he relives the death of his best friend, Noel (Alejandro Bravo), during a tour overseas. One morning he is visited by a private investigator, Frankie (Titania Galliher), who found his truck incinerated in the woods. Frankie informs Justin that it had been involved in various drug crimes.
Months ago, Justin gave his truck to his younger brother, Charlie (Joseph Poliquin), who went off the grid. Justin then receives a call from his mother, Nancy (Marian Edmiston), saying that his sibling is missing and fears the worst. When Justin hesitates, Nancy declares that he's a horrible brother and that this is his fault. The guilt-ridden Justin steps into action to find Charlie. He heads up north to Charlie's last known location.
Here, Justin reconnects with Noel's widow, Michelle (Rose Marie Guess), to see how she's doing. The two discuss Charlie's whereabouts, which leads to a militia compound led by the gruff Billy (Romano Orzari), who thinks Justin will make a great new member of the militia. When Justin refuses, Billy lets him off and leads him to the hole where they buried Charlie.
Northern Shade is another example of neo-noir. No longer is the protagonist a drunken private investigator but a military man suffering from severe PTSD. Rucinski adds special touches of originality to his tale. First, there's the fact that the protagonist is ex-military. Second, Justin is guided by the ghost of his combat buddy. There's also a femme fatale with an emphasis on femme. All that is before the filmmaker takes us into the seedy underbelly of the world of militias.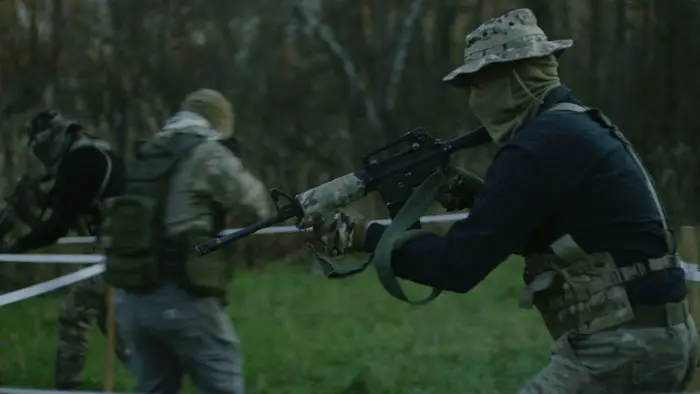 "When Justin refuses, Billy lets him off and leads him to the hole where they buried Charlie."
As the lead, Gavin is unassuming, as there's no overacting necessary. His restrained performance allows room for Justin to wrestle with his demons without having to go to emotional extremes… cool in public while tortured at night. This portrayal also allows us to buy into the character's highly dangerous and risky decisions.
Rucinski captures the feeling of a noir despite an indie budget. The cast is small, but he focuses tight on that cast to make his story feel big. He also uses the backwoods setting to perfection, as the director gives you the illusion that this is a fully operational militia compound.
Storywise, Northern Shade dives into the noir genre well. Rucinski balances Justin's PTSD, talking to his buddy's ghost, and tackling the militia conspiracy well. He also adds a bit of sexy time as a refresher. If there is a fault, I wanted more detail and the boundaries pushed on the thrills. I'll chalk this up to the limited budget. I'll be honest, though. It's sorta strange to watch films shot during the pandemic and see most of the cast in masks. The jury is still out if this is a positive in storytelling.
Northern Shade is a solid noir thriller with good performances. It may miss the glitz and glamour of the big Hollywood productions, but the director pulls through with an engaging story that will keep you guessing until the end.
For more information about Northern Shade, visit the Bayview Entertainment website.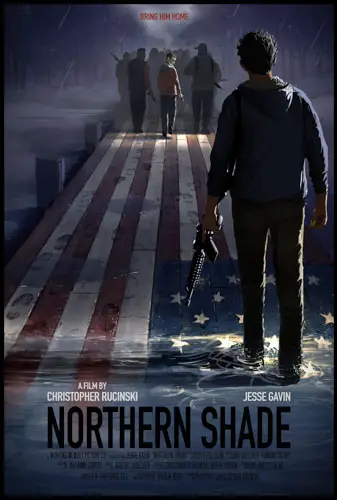 "…captures the feeling of a noir despite an indie budget."