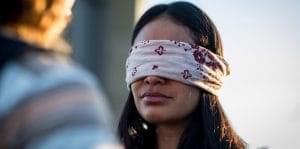 Human trafficking is one of the most terrifying subsects of organized crime. It's a $3.2 billion a year industry that doesn't discriminate. There are victims from all over the world of differing sex, age, and social strata. However, people, particularly women, and even children from the so-called "3rd world" countries are often the most at risk to fall prey to this horrible crime. Michael Polish's 2018 film Nona tells the story of one such young woman who was taken advantage of by a "Coyote," which is essentially a pimp for a criminal organization that sells his victims into prostitution after promising them a better life in the United States.
In this story, we start out in El Salvador and meet a nameless young woman who works as a makeup artist in a mortuary. Her brother and father have both been killed, and her mother has long since emigrated to the United States but didn't make enough money to send for her. The young woman, who we soon come to know as Nona, is smart and self-sufficient and has a strong faith in God. Her life in El Salvador is difficult, but she seems to be making it as well as one could under her circumstances.
"…an intimate, harrowing journey of a young woman trying her best to find freedom."
Then, one day, a handsome stranger rolls into town. Nona sees him everywhere. She talks to him here and there and eventually befriends this man, the heartbroken Hecho, a young man from Mexico who is traveling to get over his divorce from a Brazilian woman, or so he says. Nona spends more and more time with him, and Hecho tells her that he can help her get to the U.S., that she doesn't have to worry about the money and that she can repay him later.
While watching Nona, it honestly takes quite some time (at least for me, and this could be because I'm preternaturally attracted to smooth-talking liars) to figure out that Heche isn't exactly on the up and up. Unfortunately for Nona, it's way too late for her when she realizes this fact, as she's already made the trek from El Salvador to the Mexican border.
Michael Polish and his team, which includes Kate Bosworth as a producer, show us an intimate, harrowing journey of a young woman trying her best to find freedom. It is beautifully shot by Polish, who followed the same route that the recent immigrant caravan followed to reach the U.S. border.
"…a visual delight, as well as an emotionally devastating tale of survival…"
The film couldn't have been released at a more serendipitous time, considering the unrest over immigration in Trump's America and the FOSTA/SESTA repeal. Due to this fact, it is my grand hope that people will see this film and take into consideration the human side of sex workers, some of whom who never intended to be them in the first place. Additionally, it could help the more hardened amongst us to understand the plight of so-called "illegals."
Nona flies by in an hour and a half but somehow manages to encapsulate so much emotional truth and heartbreaking beauty over its short runtime. I hope that people go out and see it on the big screen because it's truly a visual delight, as well as an emotionally devastating tale of survival against all odds.
Nona (2018) Written and Directed by Michael Polish. Produced by Kate Bosworth. Starring Sulem Calderon, Jesy McKinney, Jasper Polish, Kate Bosworth.
8 out of 10 stars