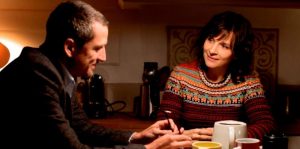 Legendary French director Olivier Assayas is back with one of his most lighthearted offerings yet. Non-Fiction (also known as Double Lives or Doubles vies) is an intellectual "romantic comedy" that is simultaneously about the dying publishing industry and the existential crises of six people who are all somehow connected through their affairs with each other. It sounds more complicated than it is, I swear. Or maybe it's not and somehow Assayas just makes it work.
The film opens with Alain (Guillaume Canet) and Leonard (Vincent Macaigne, who could seriously be Charlie Day's long-lost French fraternal twin) sitting down to a meal together. Over the course of their conversation, we gather that Leonard is an author and Alain is his longtime publisher. They're talking about each of their projects, including Leonard's new manuscript. Throughout the conversation, there is no hint that Alain won't be publishing Leonard's manuscript but when they part ways, Alain tells Leonard that he isn't going to publish the book and that he "thought you got that."
Leonard is pretty depressed about not having his manuscript published. His wife, Valerie (Nora Hamzawi), is an advisor to a politician running for office, and she is not exactly the comforting type. She asks him "What do you want me to do? Cry?" and then she has to leave to meet with her boss.
"…about the dying publishing industry and the existential crises of six people…connected through their affairs with each other."
We are introduced to Alain's wife, Selena (the always amazing Juliette Binoche), a television actress, via a party at their house. This is when we get into the intellectual meat of the story. Throughout the course of the film, a lot of the conversations are about the publishing industry and how to revive it for future generations through technology. Some of the concepts that are touched upon throughout the course of Non-Fiction are: the popularity of audiobooks and Kindles, the good and bad sides of the internet in regards to reading and writing, what constitutes good and bad writing, whether or not auto-fiction should even be considered fiction, etc.
Selena works on a television show called Collusion where she plays a crisis management official for the police or as everyone who sees the show says to her "a lady cop." Selena is unfulfilled by the part and in her life, admitting to a coworker of hers on set that she believes Alain is cheating on her. Of course, he is, with Laure (Christa Theret), the new head of "digital transition" at his publishing company. We also find out that Laure is cheating on her girlfriend with Alain.
To keep up with the theme of infidelity, we then find out that Leonard is cheating on Valerie with Selena and that the female lead in his new book "Full Stop" (or Arrêt Complet en Francais) is based upon their affair. Luckily enough (for Selena and Leonard) everyone believes that the book is based on Leonard's affair with another woman, a late night talk show host.
"…mainstream American fare is nowhere near as intellectually stimulating while being darkly hilarious."
Non-Fiction is incredibly witty, fast-paced, and unmistakably French. Most mainstream American fare is nowhere near as intellectually stimulating while being darkly hilarious. The women are also portrayed as the smarter and more reasonable partners in the heteronormative relationships as well, which as a woman, I know is usually true, but it's nice to have that represented on the big screen. Often in most media (although definitely not always true in reality) cheaters are dragged through the mud and reviled and sometimes have their cars or houses burned down (oh wait that happens in reality as well), and I'm not going to say that I don't relate to that, but it is interesting to see couples survive infidelity in film and go on to bigger and better things together.
On the whole, Non-Fiction was an incredibly fun watch for me but I could definitely see where viewers who like their movies action packed might get a little bored with the publishing industry aspect of the film. The film is about an artistic elite that a lot of regular people don't care too much about. However, there is something in this film for everyone, if audiences don't let the hyper-intellectual aspects scare them off.
Non-Fiction (or Doubles vies) Written and directed by Olivier Assayas. Starring Juliette Binoche, Guillaume Canet, Vincent Macaigne, Christa Theret, Nora Hamzawi. Non-Fiction screened at the 2018 New York Film Festival and the 2019 Palm Springs Film Festival.
7 Out of 10 Stars