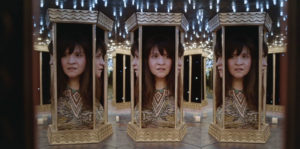 No Promised Land was produced by star Destiny Soria and written, directed, and shot by Colin Bressler. Most of the characters don't have names and are instead known as Mom, Father, and Driver, respectively. The one exception is the young child at the crux of the narrative, Eric, played at various ages ranging from baby to teenager, by Kylie Starr Hall, Eric Garcia, Brandy Nicole Hall, and Gabriel Carmona.
Indigenous Mom (Soria) is new to a small town in Texas and gets a job as a barista. There, she meets the charming and wealthy Father (John Hall), who sweet talks her into an affair despite the fact that he's married. Predictably, Mom winds up pregnant with Eric, and due to Father's status in town, he swears her and the baby off, leaving them with a wad of cash and nothing else.
As the years go by, Mom does her best by Eric, but pressure mounts, and she decides to take drastic measures to get more of the much-needed green paper that makes the world go round. Unfortunately, this desperate act goes awry, forcing Mom and Eric to take a hostage/get-away Driver (Jennifer Ugochukwu). Will Mom be caught by law enforcement officers? What will happen to Eric, and what is his mom's game plan?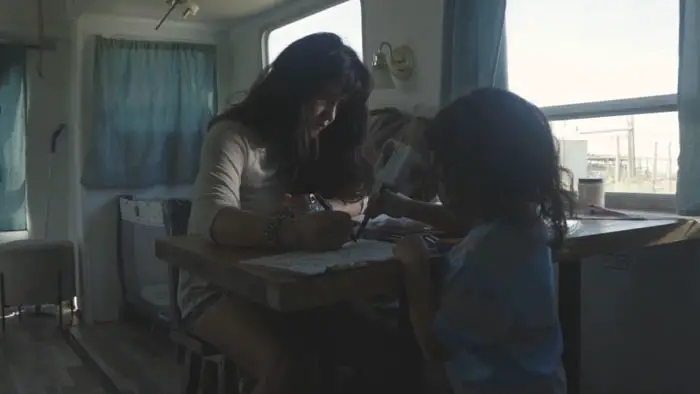 "…Mom does her best by Eric, but pressure mounts, and she decides to take drastic measures…"
No Promised Land is a straightforward story when put into a quick synopsis like above. But Bressler is more interested in establishing the mental space of Soria's character than simply telling what happens to these people. To that end, the narrative is non-linear, and the editing by Chris Bakir includes kaleidoscopic and surreal imagery. When coupled with the remarkable lighting, the visuals clue audiences into Mom's fragile but understandable mind with clarity.
Soria is exceptional as the overwhelmed Mom. Her interactions with each iteration of Eric are believable, as is her heartbreak and desperation. Kylie Starr Hall, Carmona, and Garcia all feel like one cohesive person, forming a natural progression to who Eric is by the end of the 65-minute runtime. Ugochukwu goes from scared to caring to pleading with sincerity, helping to up the stakes once she enters the picture.
No Promised Land is a beautifully lensed look at life's ugly and harsh sides. Good intentions don't always put bread and water on the table, which leads to necessary criminal acts. Love is doing something so unthinkably hard it is impossible to understand the gravity of the situation unless one experiences it themselves. Through excellent visuals, lighting, and stellar acting, the film unflinching examines these ideas in a truly cinematic way.
For more information about No Promised Land, visit Colin Bressler's Instagram page.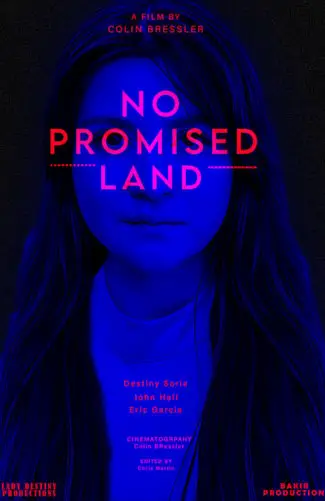 "…includes kaleidoscopic and surreal imagery."