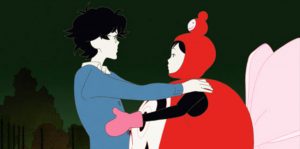 It's rare that a single evening's shenanigans are so batshit insane that when it ends you are relieved that it's done, but also equally disappointed that you couldn't stay just a little longer. That is the whole experience while watching Masaaki Yuasa's latest feature-length fever dream, adding further support to his established reputation as one of anime's most aesthetically avant-garde directors. 
While following a young woman through her long night of heavy drinking and partying, a crushing upperclassman attempts to find and confess his feelings to her, ultimately becoming the greatest challenge of his life thus far. Night Is Short, Walk On Girl wants to throw as much at us as it can, with the hope that at least something will stick; and while it is highly (and incredulously) entertaining, it also rings a little hollow each time it tries to shift thematic gears.
Based on the novel of the same name by Tomihiko Morimi, the unnamed male and female protagonists (called "Senpai" and "Otome" respectfully) begin their extended night's adventures with entirely different goals. While Senpai (Gen Hoshino) is finally going to confess his feelings to Otome (Kana Hanazawa), she is dead-set on having a lively night drinking in the city. While bar hopping, Otome meets Todo (Kazuhiro Yamaji), a perverted middle-aged man to whom she delivers a hard punch to the face when he attempts to grope her breasts. This action wins her new friends of Hanuki (Yūko Kaida) and Seitarō (Kazuya Nakai) at the bar, who then guides her through crashing strangers' parties throughout the city. 
"While Senpai is finally going to confess his feelings to Otome, she is dead-set on having a lively night drinking…"
As she quickly becomes famous for her ability to endlessly guzzle alcohol, she eventually challenges a supernatural creature to a drinking game to redeem Todo. All the while, Senpai is continuously running into mishaps and misunderstandings that always put his confession further and further away, eventually becoming so desperate, he momentarily steals the male lead in a guerrilla theatre production to sing his confession to her (as she had incidentally become the female lead).
If the plot above is a little hard to follow, it's not just you; and that is just the main arc, with many more situations and characters thrown into the mix. As the runtime progresses, we quickly become lost in the bizarre and disjointed narrative, swallowed up by the whimsically oblong visuals. Nonetheless, it is abundantly clear from the onset that this an "experience" film, where it banks on how each character (and likewise the audience) feels, rather than trying to maintain any logical through-lines. Regardless if we understand it or not, the characters all go through an unreasonably zany night, and the film effectively exudes this attitude. However, as a result of this approach, the protagonists feel rather shallow and cliched without a whole lot of definable personality. Though what is happening around them is fascinating and engaging (the film even becoming a musical in the third act), these two are surprisingly drab all by themselves, which directly affects the film's climax and conclusion.
"…banks on how each character feels, rather than trying to maintain any logical through-lines."
This is due (in part) to several supporting characters being from a couple of Yuasa's previous works (Lu Over the Wall and The Tatami Galaxy). If you are already familiar with the director's filmography, these connections actually make a significant point. Within the narrative (such as Hanuki and Seitarō being major characters in The Tatami Galaxy, which was adapted from another novel by Morimi), if this is your first Yuasa film, there is little that is clear as to their inclusion besides adding general quirkiness to the experience. Yuasa gained heightened notoriety and acclaim with the release of Devilman Crybaby on Netflix earlier this year, noted for his unorthodox directorial and artistic flair. Though far more cheery (and void of disturbing sexualized gore), this film is lacking the series' overall stylistic cohesion, impressing like several short vignettes stitched together into a loosely-related anthology.
This is not for the casual animation fan, nor is for someone necessarily looking to connect with the main characters; it cares about the sum rather than individual parts, but that's kind of okay. Almost emblematic of the nonsense and insanity that pervades university campus life, Night Is Short, Walk On Girl is a fun and entertaining ride, though its dissatisfying conclusion and weak ability to transition between ideas may leave audiences feeling a little underwhelmed.
Night Is Short, Walk On Girl (2018) Directed by Masaaki Yuasa. Written by Makoto Ueda. Starring Kana Hanazawa, Gen Hoshino, Kazuhiro Yamaji, Yūko Kaida, Kazuya Nakai.
7 out of 10