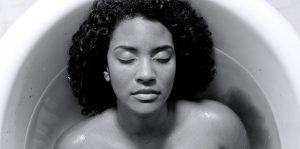 It's highly unlikely that anyone reading this hasn't had at least one horrible date in their lifetime. Especially in the age of app-based dating, it's nearly impossible not to have a cringe-worthy experience on the books. While internet dating is hard for everyone, it can be particularly challenging for women who have to fend off the swaths of creeps that populate these apps and websites. Nicole acknowledges all these facts in a hilarious and horrifying exaggeration of the worst dating situations that exist out in singledom.
Nicole (Tamika Shannon) is an IT specialist for an ad agency with a bit of a drinking problem. She doesn't talk to people in the office that much, aside from one unnamed male co-worker (Ke'Shawn Bussey) with whom she has a small flirtation going. She paints and has (or had) a strong relationship with her parents, and she loves to cook. She decides to go on a Tinder date with a man named John. John (Stephen Wesley Green) is by all appearances an extremely charming, handsome, and funny man. He's a catch, and he's the first person to tell you so. Nicole and he met at a bar for their date.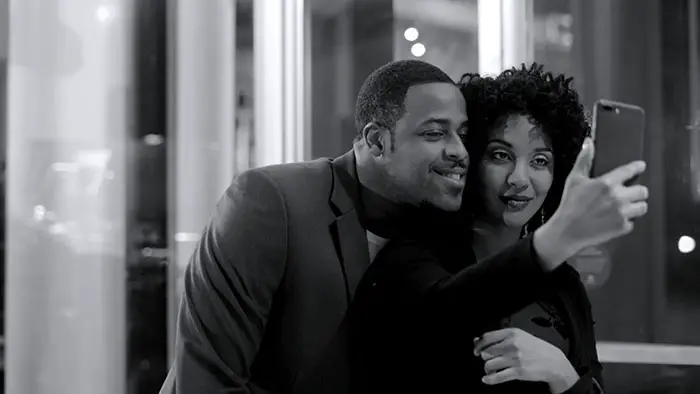 "She carried a knife in her purse…but was it for self-defense or something else?"
Nicole is reserved and quiet through most of the date, drinking far more than John, and John is trying his best to get into Nicole's pants. We see that he's nothing more than a rapist creep while Nicole is in the bathroom, and he slips a roofie into her drink. Luckily when Nicole comes back from the bathroom, she decides she doesn't want the drink. John keeps persisting with his attempt to have sex with Nicole at all costs. Nicole invites him to her house for dinner. To go with the theme of the evening, John gets the wrong idea of why Nicole asked him over and tries to rape Nicole.
This is where Nicole steps in as one of the most unique angles on a story of date-rape I have ever seen. Nicole empowers herself and, in a way, is a symbol for female empowerment across the board, but it's more complex than that. Nicole is also very likely insane. We see throughout that Nicole may have visions, due to the change from black & white to color. She cooks dinner for her parents earlier in the film, but then we discover that they're dead. She carried a knife in her purse on the date with John, but was it for self-defense or something else?
With a relevant and sickly hilarious script by writer/director James Schroeder and beautifully effective cinematography from Jeff Dillon, Nicole is a must-see for anyone who isn't a straight man—not saying that they shouldn't see it as well, for a model of exactly how not to behave when dating a woman. It could also be seen as a bit of a cautionary tale for men. One day, you might get what's coming to you. Of course, the film is a nod to the #MeToo movement, with a line of "You Harvey Weinstein motherF—er" thrown in the mix. I enjoy this premise alone, but the addition of Nicole's psychosis makes it all the more interesting. Altogether it's a very satisfying film that, with everything else I already mentioned, also has great music by Michael Barnes, Josh Coleman, and Raoul Klokow. Nicole is another great addition to the indie-horror echelon, so make some time to check it out!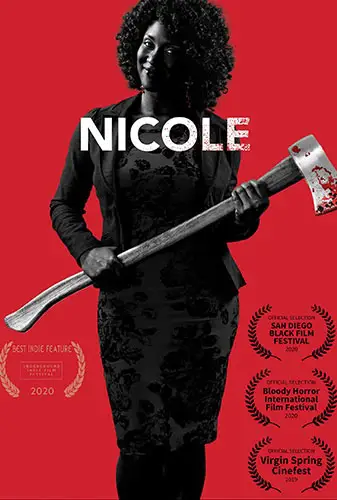 "…a cautionary tale for men."