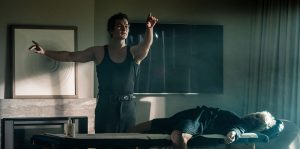 With all the important recent sociopolitical movements and consequent paradigm shifts – women's rights, Black Lives Matter, LGBTQIA activism, to name a few – a certain class of people seems to be left out/disregarded, and blatantly so. Yes, ladies and gentlemen, I'm talking about wealthy, white suburbanites. Tormented by their privilege, trapped behind their white picket fences, they are left to fend for themselves, poor bastards. In Malgorzata Szumowska and Michael Englert's surreal satire Never Gonna Snow Again, a Christ-like savior brings salvation of sorts to such a gated community of desperately despondent rich folks.
Saturated with magical realism and biting sarcasm, the plot, or whatever semblance of it there is, takes its time to unfold. When the enigmatic Zhenia (Alec Utgoff), a Russian-speaking immigrant from Chernobyl, pops up out of nowhere in an affluent Polish suburb, people assume he's radioactive. The masseuse/hypnotherapist does, after all, possess the uncanny ability to lift their spirits, not to mention put them in a trance – oh, and move things with his mind.
Zhenia's mysterious allure grabs hold of Maria (Maja Ostaszewska), an exhausted housewife, and Wika (Weronika Rosati), whose husband is gradually dying. Soon the entire community is enraptured. But Zhenia himself is tormented by demons. Will he save these people from themselves before his past catches up with him?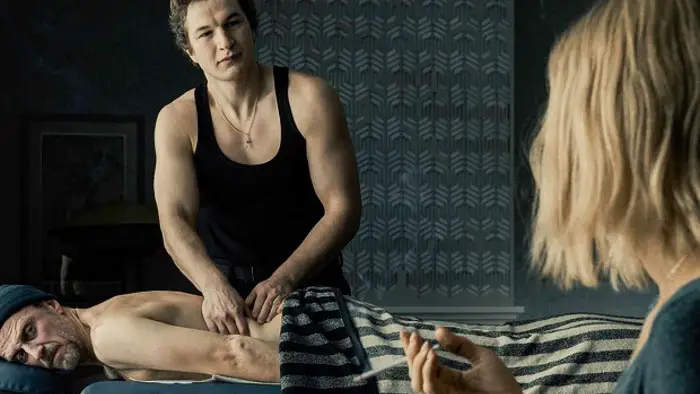 "…a Russian-speaking immigrant…[possesses] the uncanny ability to lift their spirits, not to mention put them in a trance…"
The filmmakers' assured touch is evident in every perfectly composed frame: from how long they let the camera linger on the masseuse's stoic face to the way snow gently blankets the earth – reassuring, fairy-tale white flakes against a grey, desolate backdrop of infrastructure and inevitability. Never Gonna Snow Again says so much with so little: how thinly shielded these people are from the encroaching doom, how said doom is brought about by utter ignorance (an extended shot of a tree being devoured by metallic jaws scars the soul), and how this distance from the realities of the world manifests itself in their distance from each other.
It's not all doom-and-gloom. Empathy is key, the filmmakers seem to say. Akin to the techniques their hero utilizes, the film has a soothing effect while traces of melancholy linger in the corner of the eye. Szumowska and Englert, who co-direct and co-wrote the screenplay, add plenty of dreamlike and comical touches. At one point, Zhenia is asked to massage a triplet of bulldogs. A child calls her mother a slut. An out-of-nowhere Halloween procession catches Zhenia off-guard. Zhenia performs an impromptu ballet while his client is deeply hypnotized. And throughout it all, there are fantasy sequences and flashbacks that add colorful splashes of aquarelle to this majestic cinematic painting.
So yes, the focus here is on a neglected class of people, and thank God they get the attention they deserve. About time. Though it's questionable whether, in the end, Zhenia ultimately inflicts any change or is swallowed whole by the reality of our cursed times, at least he tried. As for whether it's really "never gonna snow again" – something a character muses at one point – it probably won't. Neither will there probably be another film quite like Never Gonna Snow Again. Sociopolitical movements and paradigm shifts are great, but it may just be too late folks.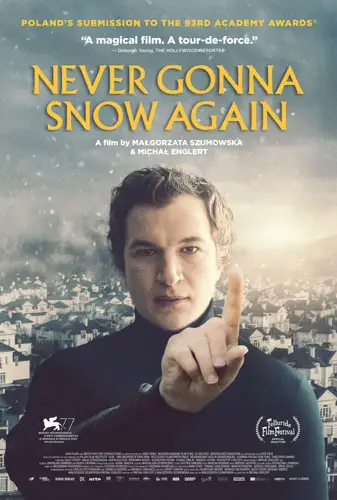 "…[a] majestic cinematic painting."