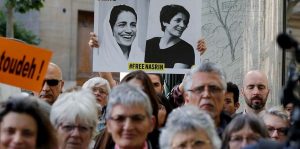 NEW TO HULU! Jeff Kaufman's documentary, Nasrin, about the unflappable, indestructible, and indefatigable Nasrin Sotoudeh is an affectionate and worthwhile portrait. While the movie doesn't break any new ground in terms of documentary filmmaking (interviews, news footage, and such) and has its flaws, it's nonetheless important that there now and forever exists a studied profile of this remarkable woman. I imagine that a welcome outcome of the film will surely be an impetus for people around the world to explore the life of this amazing figure in the fight for human rights.
A title card informs the viewer that following the Iranian Revolution in 1979, a battery of unbelievably authoritarian laws suppressing women were enacted, including the prohibition of women to pursue divorce, maintain custody of their children (revoking freedoms that had been in place since 1967), and most demeaning of all, the requirement that women wear a hijab (a head covering) in public.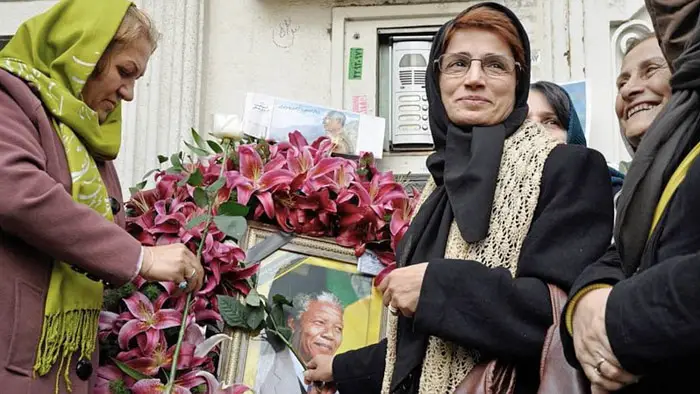 "…her legal scope grew to include…defending women accused of violating laws that are preposterously archaic…"
Nasrin Sotoudeh traded a comfortable life as a banker for one of social and political activism. While she was working as a journalist, Nasrin conducted an interview with Shirin Ebadi, the noted human rights activist and Nobel Peace Prize laureate, who inspired her to pursue a law degree. Once licensed, she initially set about defending children, particularly juveniles facing death sentences. In time, her legal scope grew to include pursuing women's and all-around human rights, defending women accused of violating laws that are preposterously archaic in the 21st century.
Nasrin Sotoudeh has devoted her life to exposing the inanity she sees in these rules. She would love to bring to light the Iran that she knows, a country rich in culture and history. As one of the testimonial voiceovers in the film indicates, "Nasrin wants the world to know that our country is just like any other country." The force driving her is the desire for the Iranian people to "enjoy freedom, prosperity, and human dignity as people do everywhere else." But in order to achieve that noble ambition, hard justices must be fought and won. Sometimes, the penalty for losing such battles is one's life.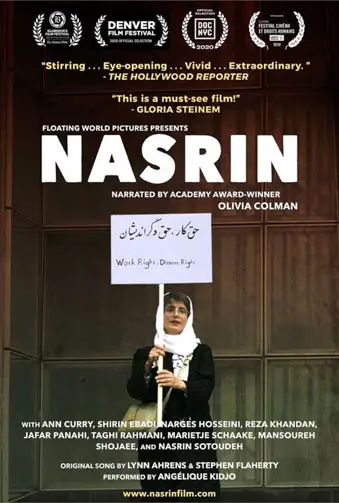 "…the world needs more people like Nasrin Sotoudeh."