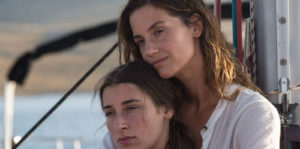 Paradise is as subjective of a concept as they come. To most outsiders, a coastal existence in Croatia under the Adriatic sun is a life to envy. But the average tourist's experience is undeniably tailored to shift the gaze away from the more sobering realities of the local working class. In director Antoneta Alamat Kusijanovic's seminal film Murina, the plight of a young lady exemplifies this contradiction in experiences.
Julija (Gracija Filipovic, in a stunning turn) is on the cusp of womanhood. But unfortunately, she lives under the tyrannical rule of her father, Ante (Leon Lucev), a poor eel fisherman left bitter from a lifetime of career disappointments. The narrative revolves around the much-anticipated arrival of Ante's longtime friend Javier (Cliff Curtis), a dashing and exceptionally wealthy businessman.
The appearance of Javier causes mixed reactions within the family. Julija is immediately transfixed by this cosmopolitan visitor and his adventurous lifestyle, while her mother, Nela (Danica Curcic), attempts to suppress long-held amorous feelings for Javier. She is outwardly pleasant but equally worried that Ante will explode in a fit of jealousy at any little remark.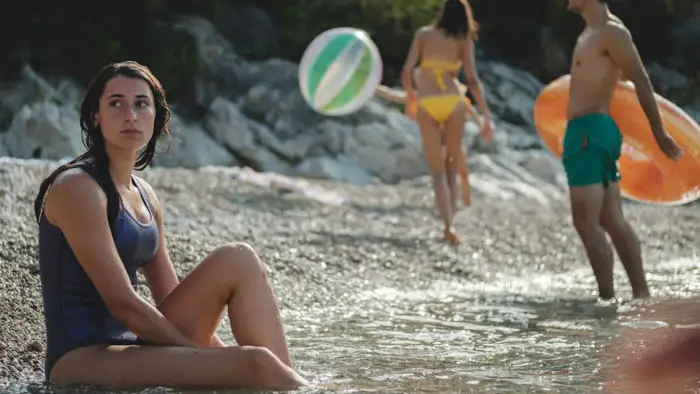 "…unfortunately, she lives under the tyrannical rule of her father…"
Ante's presence is like a dark cloud throughout Murina (Croatian for a moray eel). He aspires to sell his beachside property to Javier, but this involves tamping down his feelings of insecurity in light of his friend and rival's success. It doesn't help that Julija, sick of living every waking moment in servitude to her father, is attempting to leverage Javier's presence to follow him around the world and pursue her academic ambitions. A goal she hopes will take her as far as possible from her controlling father. It's a credit to Lucev's menacing performance that when Ante's off-screen, we, the audience, can collectively let out a sigh of relief.
Julija's controlled transgressions against her father keep the audience engaged. A wily and intelligent young woman, she pushes back against her father, knowing that Javier's presence serves as temporary protection from the worst of his vindictive outbursts. The screenplay, by Kusijanovic and Frank Graziano, tells an unpredictable story. Sequences towards the film's conclusion are among the most harrowing experiences in recent memory.
Murina isn't just a family drama under a hot sun, though. The stunning underwater cinematography by Hélène Louvart, blistering performances from Filipovic and Lucev, and white-knuckle tension belie a film that doubles as a sharp critique of the tradition in many cultures to stifle the development of young women, be it academically, professionally, or sexually. Indeed, one sequence shows Julija jealously spying on tourists (anchored in her family's private cove) lounging on the deck of a luxurious boat in skimpy swimsuits while making out with each other. Quite the contrast from her days spent in a relatively modest one-piece diving for eels with her father.
Kusijanovic's feature-length debut is nothing short of revelatory. Murina is the perfect summer film. Beautiful scenery, nuanced performances, and canny filmmaking provide one of the most memorable coming-of-age stories of the 2020s so far. This is the perfect film to see on the big screen and is one that can't be missed.