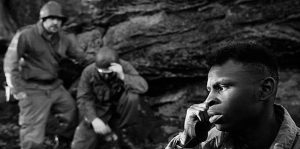 Johnny Herbin's Mountain is a mood. A black and white short: seven minutes of tone with no dialog except narration that sounds like Danny Glover. The film is an exercise in gestalt, it can be what you want it to be when you watch it. Three soldiers being hunted and picked off by "the enemy" can be any metaphor you like. The expansive vistas around a wild mountain set the atmosphere along with a tense soundtrack.
"You feel the cold bite. You smell the sweat and the desperation."
There are few facts. The soldiers appear to be Americans. The narrator is speaking English. The propaganda flyers dropped by the enemy are in German. A good deal of time passes, months or years on the mountain. Stark and beautiful images of stillness are intercut with the desperation of escape. The film moves very well. This be could seven minutes of a chase in any war film you've seen. The Inglorious Basterds, Green Berets, or E Company's Band of Brothers could be over the next ridge. Or the Stargate. Or the TARDIS. You feel the cold bite. You smell the sweat and the desperation.
The actors sell it amazingly well without words. Wam Siluka, Jr in the lead is particularly striking in his ability to register nuances in facial expression to fill the verbal gap. 
This is at least the second film this year entitled Mountain, the first being a documentary directed by Jennifer Peedom. 
Mountain (2018). Written and directed by Johnny Herbin. Starring Wam Siluka Jr., Craig Young, Jam Morrison, Anthony Lund.
7 out of 10