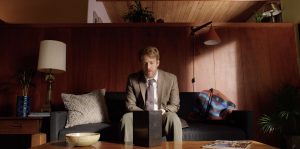 NEW TO HULU! For decades, filmmakers have mapped out situations where the protagonist goes on a road trip to fulfill an obligation. In any road movie, there is always a destination, but it is the journey that matters. Traditionally the protagonist who embarks on the trip ends up learning more about themselves or reigniting a relationship they thought to have escaped. Jack C. Newell's Monuments is the latest addition to the genre, and through an amalgamation of quirky humor and genuine heart, the bumpy ride is worth taking.
College professor Ted Daniels (David Sullivan) is well-versed in the field of anthropology. He studies life and death across different cultures, and yet he was gravely unprepared to deal with the sudden death of his wife, Laura (Marguerite Moreau). In the midst of a ceremony to spread Laura's ashes at the family farm, Ted steals them and ventures on a cross-country trip to Chicago. There he hopes to lay her to rest at the Field Museum, which is a place that means a lot to them. Laura's plain-spoken sister Crystal (Paulina Olszynski), eccentric parents, and a guy named Howl (Javier Munoz), who went on one date with Laura, chase down Ted hoping to retrieve the ashes.
For most of the first half of Monuments, the present (Ted traveling to Chicago) is intercut with glimpses of the couple's past together. Editor David Burkart interlaces the timelines quite fluidly. The nature of Ted and Laura's relationship is established by their upbeat interactions, which implies their shared curiosities and aspirations have made them compatible. Halfway through, Laura comes back as a ghost, or a hallucination, conjured up by a mournful Ted. While this isn't the first time a grieving widower speaks to their deceased spouse, the tactic paves the way for Ted to accept that he must move on. Yet, him stealing the ashes is enough of an indication that he is unable to do so.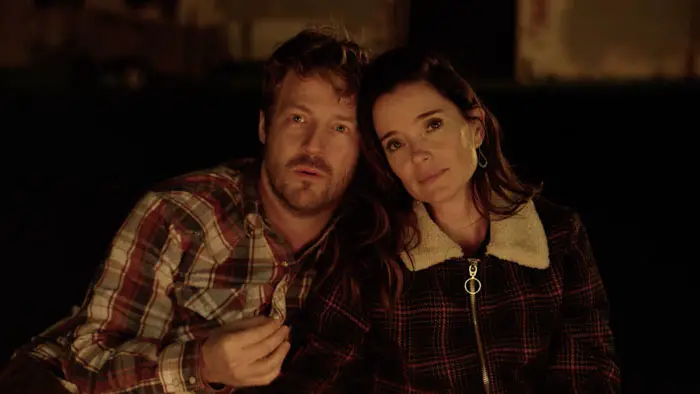 "In the midst of a ceremony to spread Laura's ashes at the family farm, Ted steals them…"
Even though it is unnecessary, the chemistry between David Sullivan and Marguerite Moreau is endearing. This makes the tired trope of summoning the deceased spouse to hammer in the theme not entirely troublesome. Plus, Stephanie Dufford's splendid cinematography is muted and unobtrusive (with a plethora of wide shots), keeping in rhythm with the kooky, unfussy tone.
While Monuments is more or less a subdued and proudly awkward comedy, the detours are increasingly silly. Howl's persistence to retrieve the ashes and challenge Ted at every turn to prove his superiority, while played for laughs, is overdone. He is confronted by a mysterious drifter named Amber (Shunori Ramanathan) and a group of singers who give him a ride. The dialogue is at times on the nose ("Nothing says 'I was here' like a monument."). The humor, while executed effectively by Sullivan's purposeful clumsiness, is hit-or-miss. Even so, the realization that Ted must come to is undoubtedly truthful.
In Monuments, the comedy outweighs the drama, for better and worse. For better because Sullivan is an engaging comedic presence, at once gawky, twitterpated, and restless. For worse, because the ending does not have nearly as much emotional effect as it probably should. Nevertheless, the film is well-acted and modestly amusing. But more importantly, the foundation of Jack C. Newell's zany road trip comedy is built on the hallowed belief that we must all eventually move on from grief — and that belief, along with Sullivan's strong lead performance, keeps the movie from going completely off course.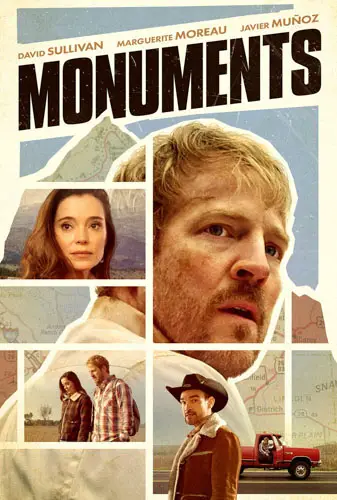 "…Sullivan is an engaging comedic presence..."