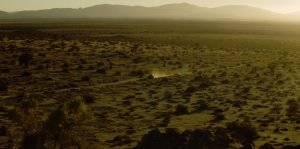 Just off one of the hiking trails in the Mojave Desert, a woman named Susan (Sabrina Percario) is setting up her tent as the sun sets in the horizon. As she goes through pictures of her and her son, Susan becomes grief-stricken, as we see through flashbacks that this was the spot where her son died.
Later that night, Susan is bitten by a rattlesnake, and there is no one around who can help attend to her wound or venom. Susan musters enough strength to walk the hiking trail, not a good idea as the poison is slowing her down.
Meanwhile, Ranger McConway (Ronan Barbour) is enjoying a relaxed morning at the station. A call comes on the radio, and it's his superior ordering him to check the appearance of rattlers along the hiking trail. The radio transmission breaks up, and he's unable to get the coordinates. Moments later, a phone call comes in, and it's Susan. She tells McConway her dire situation, but the phone reception is the worst, and they get disconnected before she can tell him her location. Susan is in lousy shape and begins seeing things, particularly a ghost from her past.
"…Susan is bitten by a rattlesnake, and there is no one around who can help attend to her wound…"
From writer/director Jaime Torres, Mojave Shadows is a story of a mother attempting to come to grips with the loss of her son. The first half of the short establishes the reason Susan is alone in the middle of the desert. The second half then plays as a search and rescue mission for Ranger McConway.
Overall, Mojave Shadows becomes a fairly predictable story. With just the element I've described, you'll figure out what is happening and how it ends. If there is a message to the story, it's one of finding hope after loss.
While I found the story insightful, it lacked the necessary depth to make an emotional impact on audiences. What was missing was any strong emotional connection with the leads. Sure, Susan lost her son in an accident, but that's not enough. We need to see how close they were as a family. Also, does she have a passive death wish? I don't know.
Ranger McConway needs to find Susan before she dies, but that wasn't enough either. He seemed more frustrated with cellphone reception than the countdown to Susan's possible demise. Our ability to connect with characters then draws us right into the middle of the story and allows us to feel what the main characters feel. These connections are just not strong enough.
Mojave Shadows (2019) Directed by Jaime Torres. Written by Jaime Torres, Roberto H. Roquer. Starring Ronan Barbour, Sabrina Percario.
5 out of 10 stars