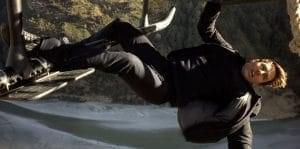 I've been somewhat of a casual fan of The Mission Impossible franchise. In 1996, it was a less campy, yet American version of James Bond. It capitalized on the end of the Cold War and focused on covert spies looking for something to do. Intrigue, politics, and a series of stunts with Tom Cruise as its poster boy.
The first Mission Impossible was a good start to the franchise even though it was perceived as a bit of a stumble. Primarily making television holdover, Jim Phelps (originally played by Peter Graves then by Jon Voight) a turncoat and killing off Emilio Estevez way too early. Then J.J. Abrams got involved and broadened the world of the IMF, mixing in some geo-politics, cool gadgets and going for even bigger scale stunts.
Admittedly I've seen most of the series, but never really became a fan until Ghost Protocol. The franchise has become a little underrated with a lack of fans enthusiasm for the next installment, but appreciate it when it hits theaters.
I think part of the problem with Mission Impossible is the feeling that it's already done everything. How many times can the government disavow Ethan Hunt? How many times can they shut down the IMF program? Is it possible to squeeze anything new and creative out of the franchise? The answer is "Yes, they can."
"…defeated and exposed The Syndicate…is a faction without a leader…"
And now we have Mission Impossible: Fallout, which I believe is the first sequel to bring back the team from the previous film fully intact, including Ethan Hunt (Tom Cruise), Luther Stickell (Ving Rhames), Benji Dunn (Simon Pegg), MI6-reject Ilsa Faust (Rebecca Ferguson), and Secretary Alan Hunley (Alec Baldwin). Jeremy Renner is the only one not to return.
Two years after Mission Impossible: Rogue Nation, defeated and exposed The Syndicate, formerly led by Solomon Lane (Sean Haris), is a faction without a leader. Cleaning up Hunt's mess, C.I.A. Director Erica Sloan (Angela Basset) sent their best agent, August Walker (Henry Cavill), to apprehend/kill as many of the remaining Syndicate members as he can. But like cockroaches, it's impossible to get all of them.
The remaining 18 members form a new faction called The Apostles, and no one knows their identity. The Apostles are now terrorists for hire and hired to create three and deploy three portable nuclear bombs. Their end game is to blow-up the Vatican, Jerusalem, and Mecca in hopes that their great destruction will bring peace. In an attempt to take down a transaction involving the purchase of plutonium, Ethan and Benji pose the buyers. Things go horribly wrong, and Ethan has to choose the life of Benji and Luther over the safety of the entire world. He chooses his team.
The rest of the film is about Ethan dealing with the consequences of his decision and pushing the rules to get back that plutonium. Weary of his decision-making process, Hunt is teamed with the aforementioned August Hunter who will make the tough choices to get that plutonium.
Christopher McQuarrie is back as the film's writer and director. Rogue Nation felt grand in scale with big set pieces, big environments, and big stakes. Fallout feels much smaller and tighter, which is good. He also somehow manages to cast doubt in our minds (for a moment) about Ethan's true motives.
"Why bother to save the world with no reward, when he could easily just walk away…"
The first big action piece doesn't happen until 20 minutes in as Hunt and Walker execute a high altitude halo jump over Paris. They start above the clouds, but a lightning storm has Ethan worried and considering other options, Walker with have nothing of it. This jump sequence from start to finish is "done" in a single shot with no cutaways.
The action from there non-stop and manages to feel fresh. We got a cool fistfight in a nightclub bathroom, a tight car chase turning into a motorcycle chase through the streets of Paris, and the final fight in the mountains ending with a helicopter chase. It is worth seeing that last sequence nice and big in IMAX.
Of course, stunts are not enough. There's also a good amount of the Mission Impossible signature misdirection, double-cross, and I think there's a triple-cross as well. The story's plausibility is stretched once again. There are a few moments you see coming from miles away and others that catch you off-guard. Just don't take things too seriously. McQuarrie does a good job avoiding clichés, that is until one or two pops up. All good.
Tom Cruise is still the star while never overshadowing Ferguson, Pegg, and Rhames. Alec Baldwin is cool and collected at this time, the supportive/moral head of the IMF. He stands by his team when motives and methods are questioned. Henry Cavill is handsome as always as the C.I.A. heavy (this is the one where he has a CG beard, right?). Also alluring is Vanessa Kirby as White Widow, nuclear arms broker. She seems more of a plot device here than a proper villain. And a little will-they-won't-they moment between Hunt and Ilsa Faust. Clearly, Ethan has a type.
"Ethan has to choose the life of Benji and Luther over the safety of the entire world…"
For the most part, the overall story makes sense. McQuarrie puts the reasons why Ethan insists on staying with the IMF on center stage. Why bother to save the world with no reward, when he could easily just walk away. Taking a note from Avengers: Infinity War. Fallout asks whether you sacrifice those you love in exchange for saving the world?
The third act is a thrill ride leaving you clutching the armrest to the very end. McQuarrie can teach a class on suspense in action films. He sets up an impossible task forcing the heroes to devise a precise plan, then have everything go wrong for a little heroic improvisation, and constantly cut on a countdown to drive us nuts. Oh yeah, I forgot the villain that will never die. You'll experience the longest 15-minutes of your life. Every last second is stretched to maximum effect leaving you exhausted at the end.
Mission Impossible: Fallout is a worthy addition to the franchise and a fast pace thrill-ride.  McQuarrie manages to keep the story, stunts, and structure fresh, which makes me wonder if he has another one in him. Do you need to see the previous films? Yes, definitely Rogue Nation, Ghosts Protocol would be helpful, MI III for a little backstory.
Mission Impossible: Fallout (2018) Written and directed by Christopher McQuarrie. Starring Tom Cruise, Rebecca Ferguson, Henry Cavill, Simon Pegg, Ving Rhames, Angela Bassett, Sean Harris, Vanessa Kirby.
8 out of 10 stars