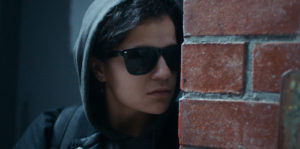 There's a good reason to watch foreign films. They aren't American, meaning they contain plots and ideas that if in the hands of a big studio, would be ruined. In the case of director Michelle Savill's Millie Lies Low, Hollywood would have ruined this little gem of a tale.
Millie (Ana Scotney) is an architecture student from Wellington, New Zealand. Her exceptional work has landed her an internship at a prestigious architectural firm in New York City. Our story opens with Millie on a plane to New York. Just as the plane door closes, Millie experiences a panic attack and insists on getting off at that moment. When Millie tries to book another flight, the airline refuses to cut her any deals since she is at fault. Unfortunately, the cost of a ticket is way out of her budget.
It would be easy to go home and admit defeat. Yet, as Millie goes over the video of her going away party, all the financial arrangements to move to New York, and ending things with her partner, she can't face anyone. Rather than come clean, Millie hops on social media and pretends to be in New York while she works things out. She has no money, so she tries to get a loan from the bank, but that'll take a few days. She starts taking pictures at locations in Wellington that look like the Big Apple. Millie sleeps on the street because she can't go home to any of her local haunts, and she has to duck and hide to not be seen by one of her friends. Of course, when she Facetimes her friends, she has no idea what time zone she's in.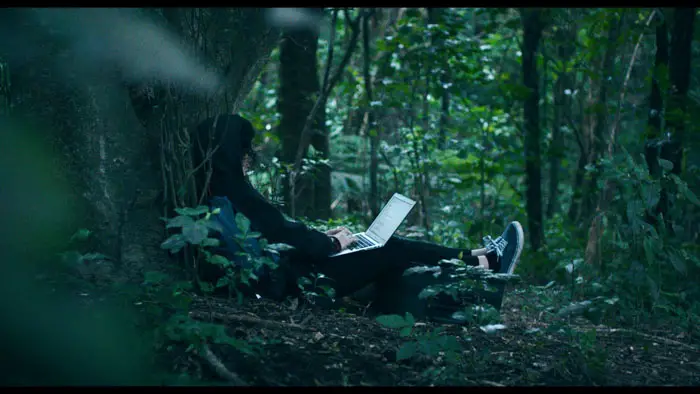 "…Millie hops on social media and pretends to be in New York…"
Now, back to my original point. If Millie Lies Low was made by Hollywood, it would be a groan-inducing screwball comedy. Instead, this New Zealand production takes this outlandish situation and turns it into a grounded drama. Yes, there are humorous elements, such as Millie going out of her way not to be seen by friends and family and the ways she keeps up the ruse that she's actually in New York. Eventually, she finds herself in a futile attempt to juggle her lies.
Within this comedic plot comes a poignant performance from Ana Scotney. Scotney focuses her character on the why of her actions. What would make this person jump through so many hoops out of fear of disappointing everyone in her life? This story of mental health centers on her fear and guilt as we discover a few of Millie's truths behind the initial panic attack and her perception of herself.
Again, this is why I love foreign films. New Zealand is not that different from the United States with our shared Western sensibilities. But Millie Lies Low is not caught in the Hollywood way of doing things. The fact that the film stars an unknown (to America) helps make Scotney's portrayal grounded and honest, especially when it comes to the ending. This little drama serves as the perfect alternative to the big studio dreck, plus no subtitles! Simple and sweet!
Millie Lies Low can be screened through the Film Movement website.
"…the perfect alternative to the big studio dreck..."