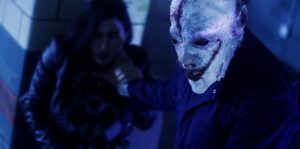 While there's only a handful of laugh-out-loud punchlines, most of the humor will paint a smile across one's face. Most importantly, the horror still works as well. A particularly creepy killing at a roller rink is one of the best the film has to offer. Aside from the opening credits, the movie never veers too far into farce to feel like a parody while never taking itself so seriously that the lack of jump scares becomes noticeable.
Of course, nothing about Massacre Academy would work if not for its cast. Everyone plays their parts with the right amount of sincerity and goofiness. Uhler is a relative newcomer, with only a handful of credits to her name. But she anchors the narrative believable. A sequence early on, where she and Maggie get into it about who to blame for their parents' death and how overcoming trauma/grief is very different for each individual, rings with truth. Both actors really go for it, not caring if the audience is on their side or not. It's refreshing to see such rawness in what is a somewhat silly slasher.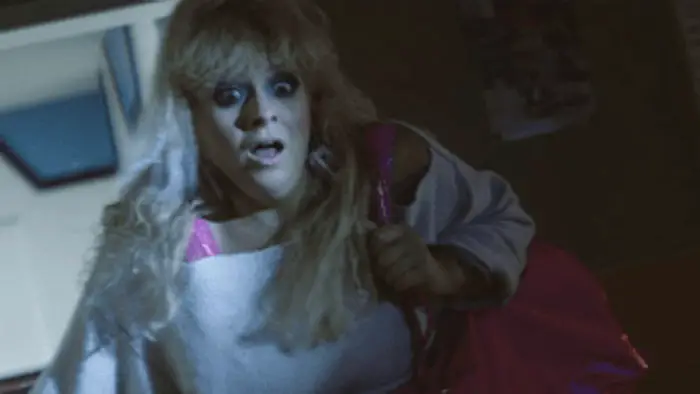 "…genuinely interesting…social commentary."
But what pushes Cantu's project into genuinely interesting territory is all the social commentary. Palmer killing all those people is only two years old, but this little community already incorporates it into their urban legends, and one sleazy used car salesman shoots a commercial about "slashing" prices. This exploration of how Kris' supposed friends, neighbors, and the like ignore her feelings to focus on how they can make a quick buck by cashing in (the ongoing thread of the other survivor, Debbie, trying to get on Star Search is inspired) adds an unexpected layer that shows how much love the entire cast and crew invested into the movie.
Massacre Academy emerges from a rocky introduction as an absolute blast of intense kills and amusing one-liners. The cast is excellent, as is the production design, which overcomes the budget most impressively. While the story is pretty standard (no real surprises are held about the who and why), its focus on the community integrating the original massacre into its identity is fascinating. Overall, Cantu helmed a satisfying, creepy, fun, bloody title.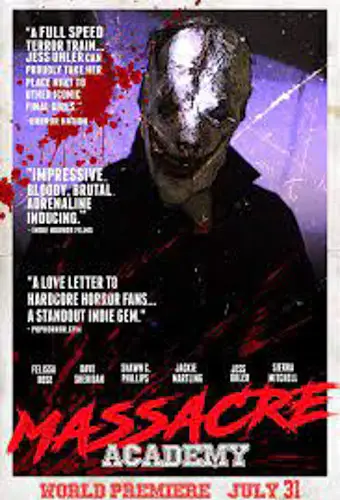 "…ably recreates the 1980s aesthetic..."